Meet Kevin Swift

His Eclectic Life

Kevin studied business at Southeast Community College in Lincoln, Nebraska while working for and then managing Christian Bookstores (1980-1986). After managing in Bismarck, North Dakota, he returned his family to Topeka as a professional photographer/studio owner (1986-1992). Since 1993 Kevin has been a REALTORŪ, earning the Lifetime Achievement Award in the TOP 5% of RE/MAX Agents Worldwide, the National Honor Award--ranking in the Top 500 U.S. agents by Broker Agent Advisor, named Best Real Estate Agents in Topeka by RealTrend, and most recently a 2019 Top 10 Individual RE/MAX Agent in the State of Kansas for number of homes sold, being among the Top RE/MAX agents in Kansas for several years running. He has been awarded the Andy Anderson Award, Gold Sales Achievement Award, Associate of the Year, Hall of Fame Award, Master's Club, and numerous other credentials.

Kevin served on the Sunflower Area Association of REALTORSŪ Board of Directors, advised on legal contract language/provisions on Risk Management, and served on Education and PR committees. In addition to establishing Focus on the Prophecies Global Ministry, he sat on the start-up Board of Directors of NET-Reach, giving birth to a new ministry providing services for families in need in an impoverished gang-infested Topeka neighborhood. And, for 17 years Kevin has served on the Board of Directors of the Topeka Rescue Mission (TRM), including as Vice President --- a ministry dedicated to providing food, shelter, clothing, training and hope to homeless and impoverished men, women and children. Kevin is the author of four books.

Digging Deeper: Kevin's Early Years

Kevin's father, Russell David Swift, was born just over 100 years ago on November 1, 1917 at the historic moment of the Balfour Declaration -- a British document from the world's most powerful nation at that time for the establishment of a Jewish homeland in what was then called Palestine. This represented a Jubilee release that paved the way for increasing acceptance and recognition of Jews in their quest to return to their ancient homeland, which movement would climax just following the horrific 1941-1945 holocaust with the U.N. Partition Plan in November 1947, followed by the British exit from Palestine and the immediate declaration of the State of Israel on May 14, 1948.

Russell Swift married LaVelle York on September 17, 1937 during the High Holy Days, and shortly after began a family while farming near Bloomfield, Iowa. However, in 1951 at age 34 Russell felt God's call and stepped out in faith to sell his homestead and farm equipment to pursue pastoral ministry, moving his growing family to Springfield, Missouri to attend Baptist Bible College with the young but now legendary classmate Jerry Falwell Sr. The Swifts became pregnant with their eighth child in mid-May 1955 at the seventh anniversary of Israel's 1948 historic statehood, and Kevin was born on January 30, 1956. Shortly after, the family moved back to Iowa.

At age 3, Kevin was gifted his first Bible during Sunday morning services at Mark Baptist Church --- a church his father would later pastor --- on a day discovered 49 years later to have been Simchat Torah "Rejoicing with/of the Torah," October 25, 1959, the annual EIGHTH DAY of ASSEMBLY celebration God established in Leviticus 23 (Lev. 23:36, 39; Nehemiah 8:18). Kevin learned during that same morning thousands of Jews would have been rejoicing in synagogues with song and joyous dance, with children on shoulders in celebration of the Torah scrolls (Bible) during the once-a-year Simchat Torah services. These ceremonies are uniquely characterized by a special aliyah --- the calling up of young children to the speaker's platform to celebrate the Old Covenant scrolls (the Torah), allowed only during this annual event.

Years later at age 12, when the family moved to Kansas, Kevin's childhood Bible would be lost and forgotten, but 23 years later in a surprising encounter his Bible was returned to him by the elderly church member who had kept it safe in her care, hoping for the day she could personally hand the treasure back. This re-gifting happened during his grandmother's funeral in Iowa 14 days after his first prophecy presentation in Michigan in early 1991.

50 Reasons: Why we are living in the end times by Dr. David Reagan

"The FIRST Sign: The first to appear was the Balfour Declaration which was issued by the British government on November 2, 1917."

Jonathan Cahn & Balfour Declaration

Balfour Declaration 99 Years Later-- A Messianic Bible

What lies beyond your last day | THE EIGHTH DAY | The Book of Mysteries
Thirst for Truth
Russell would pastor churches in Unionville, Marion and Mark, Iowa, and in early 1968, he took a pastoral position with the Bible Baptist Church in Abilene, Kansas --- hometown of President Dwight D. Eisenhower (1953-1961), and the sunflower state became the permanent residence for the Swift family. Kevin finished secondary education in Abilene, and moved to Topeka in 1974.
As a minister's son, Kevin was taught the Word of God from childhood. However, he had questions about church doctrines and at age 18 began his own study of the Scriptures. Kevin wanted to know for himself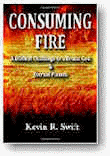 what the Word taught, beginning with the dichotomy of a loving God and eternal tormenting hell. His Biblical examination of the subject over 40 years ago is addressed in his book Consuming Fire, available on Amazon. In his early 20's as he explored the Word of God his personal views continued to be stretched. He saw the validity of the fourth commandment to keep holy the seventh-day (Saturday) Sabbath, which our Creator instituted the first week of creation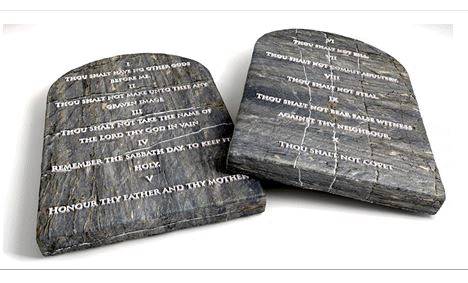 (Genesis 2:2-3) as a gift to all mankind --- the forgotten day, which God Himself said to "Remember" (Exodus 20:8-12). Kevin married and had two children (a son born on Simchat Torah --1979; and daughter born during the fall High Holy Days of 1982). Kevin determined to cease work and rest as God commanded. Not out of convenience, as he was forced to choose between honoring the written Word or keeping his job; he chose God's day. Although at the time his father challenged Kevin's decision, in later years Russell Swift caught a glimpse of the Sabbath through Kevin's first book, and accepted and taught the seventh-day Sabbath rest to his Baptist congregation.
Bible Prophecy
From his mid-20's, Kevin Swift taught weekly adult Bible classes. In the summer of 1990, a friend introduced him to others who were studying the neglected book of Daniel, where it seemed to teach that a Western conflict with IRAN (Persia) would signal end-time events have begun --- based on the prophetic passages of Daniel 8:1-8; 18-19. Even more, Daniel's neglected timelines could represent "last-day" counting periods. However, after 2,500 years of examination it was yet unclear just how the time prophecies might fit together, and how events would play out on the world stage. Kevin realized he and other believers had much more to learn about the books of Daniel and Revelation and God's prophetic plan. In his studies, he came to believe the four visions that Daniel personally received (chapters 7-12) foretold final events --- including the 70 weeks (490 literal 24-hour days) of Daniel 9. In reality, Daniel's visionary scroll had as much to say about final events as the Book of Revelation; and, these two inspired books needed to be study together as one collective account of last-day Middle East and global events, world leaders, timelines, wars and seismic trials, which will play out on the world stage in minute detail during the appointed times of the end.
In the fall of 1990 at age 34, Kevin laid out a chart using all the major timelines found in the two prophetic books, presented as literal 24-hour counting days --- just as the original Hebrew/Aramaic reads (70 weeks --- meaning 490 days, including its last week of seven literal days, not years; 2,300 evenings/mornings --- meaning, evening and morning sacrifices, representing 1,150 days; 1,260 days; 1,290 days; and 1,335 days); certainly, a novel and unconventional approach to prophetic interpretation. He launched the prophecy ministry and presented his findings by invitation 30 years ago in mid-January 1991 at a Prophecy Seminar in Michigan, which would be improved and expanded with further study over the years that followed.
The importance of God's Festival rehearsals, practiced by Judaism for thousands of years as instituted at Mt. Sinai and recorded in Leviticus 23, began to take root as they relate to final events. Jesus fulfilled the Spring Passover (Pesach) Feast days during crucifixion week and during Pentecost (Shavuot), and it was thought He would fulfill the Fall Festivals at His return (Rosh Ha Shanah--Feast of Trumpets; Yom Kippur--DAY of Atonement; and, Sukkot--Feast of Tabernacles). By comparing the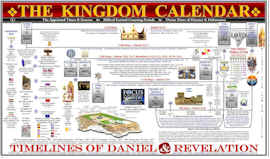 Daniel and Revelation time chart Kevin created two years earlier to the Festival observance calendar it was discovered the layout fit between the Jewish-Biblical Festivals to the day over the three and one-half year period beginning with the first Festival match of 1997 to 2000, ending exactly on schedule during the Autumn High Holy Days. How could that be? Humanly speaking, a match like this would be impossible by chance alone --- a mathematical anomaly. Knowing that God's Holy Days shift on the Gregorian calendar each year and understanding the sheer odds, Kevin knew the match could not be a mere coincidence. He had no theological training or insight into numbers and dates; a Gentile**, yet this should have been a Jewish discovery! Nonetheless, pains-taking progress has been made over the last three decades in further understanding Daniel and Revelation, the Festivals, celebration dates and the appointed time of the end, and what has emerged is The Kingdom Calendar that you see today.
Please note, the Daniel and Revelation prophecy timelines fit between the Festivals almost every cycle well into the future starting at Purim and ending at Yom Kippur three and one-half years later, so it's impossible to set the actual fulfillment period until events begin. However, once final events start the very specific "to-the-day" counting periods will be fulfill during the period of their intended purpose --- to offer hope to God's people in a prophetic period of intense trial and persecution.
The Spirit of Truth
Since his late teens he determined to follow the the Scriptures and only settle on views that are proven by the full evidence presented from Genesis to the book of Revelation, since Biblical revelation has been a methodical unfolding of Biblical truths delivered to dozens of Hebrew prophets and scribes over a period of one thousand years by the Spirit of truth, guiding mankind at God's pace to all truth and telling us what is to come (John 16:13). We are told, the mysteries of Daniel's prophecies would not come to light until the end of the age, when events are about explode onto the world scene. The reason why we do not see Biblical truths and the unfolding mysteries of God is because we do not deeply desire to see them. Just like with most aspects of life, we end up believing exactly what we want to believe --- views we've been taught since childhood, or by the theological professionals we admire.
Too many of us are far more concerned with maintaining normalcy, than we are about pursuing Biblical truths and Godly wisdom that might push us into new realms, leading sometimes to different views that breed conflict with family and friends.
Are you an honest seeker of wisdom? If you have felt drawn to this website and others that challenge the prevailing views of our day, you may be one of them. Messiah emphasized twice that for all intents and purposes, Daniel's prophetic roadmap would be understood only at the time of the end: "But you, Daniel, roll up and seal the words of the scroll until the time of the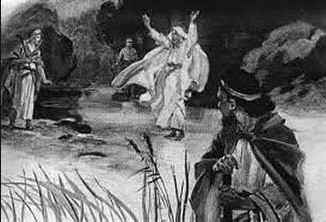 end. Many will go here and there [in dedicated pursuit] to increase knowledge [of the prophecies]," (Daniel 12:4). Again, Michael restated in unalterable sworn candor to Daniel's dismay -- and, the two witnesses on the banks of the river; Daniel 12:5, Revelation 10 & 11 -- "Go your way, Daniel, because the words are rolled up and sealed until the time of the end. Many will be purified, made spotless and refined [by the end-time trials], but the wicked will continue to be wicked. None of the wicked will understand, but those who are wise will understand." He continues with two final time periods that would also be unlocked, "From the time that the daily [worship at the Western Wall and Temple Mount] is abolished and the abomination that causes desolation is set up [on the Temple Mount], there will be 1,290 days. Blessed is the one who waits for and reaches the end of the 1,335 days," (Daniel 12:11-12). With this guarantee, we can know with confidence Daniel's visions and all the counting timelines will be understood in their entirety as we near the appointed time. Michael committed this to us by sworn testimony on God's righteous Name (Daniel 12:7).
Kevin has studied 40 years the wondrous mysteries of God's Word with the last 30 years focused on Bible prophecy. Like so many others, he has experienced painful personal losses in the journey of life. He has been devoted to Biblical research and discovery, giving time and energy to teaching and leading in various ministries while waiting for prophetic events to begin in God's time. He maintains friendships across denominational lines and has taught Bible prophecy in Adventist, Baptist, Church of God, Nazarene, Messianic, and non-denominational circles, while his online resources have been viewed by thousands around the globe. The primary emphasis of his work is to give glory to Jesus--Yeshua our Messiah, and to join other voices in proclaiming the King of kings is about to intervene in the Milky Way Galaxy to confront Satan and unseen powers in high places, to bring an end to sin and rebellion, and to establish His Kingship over the entire universe.
*Heaven's instruction to " remember the Sabbath day" was firmly established because God knew how it would be summarily dismissed and substituted, although set squarely in His Moral Law --- the Ten Commandments. Yahweh's Ten Top Moral Laws are so important that Messiah--the Messenger of His Covenant personally wrote them on tablets of stone as an eternal memorial. Reference Source Videos: The Ten Commandments: What You Should Know and Remember the Sabbath by Prager University.
Personal Message from Kevin Swift