BOOK OFFER #2: Insights in Prophecy: Unlock The Anciet Mysteries of Daniel & Revelation $19.95 - a 348 page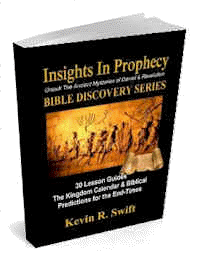 paper back compilation of 30 lesson guides take you through the books of Daniel and Revelation, showing how events in our world are matching with alarming accuracy these ancient scrolls. In the process, we will research thought-provoking questions, offering Biblical commentary on the various aspects of God's unfolding plan, which lead up to Yeshua our Messiah's return and His Eternal Kingdom. The lessons are free on our website, but you can save much time, ink, paper and printing costs with the purchase of all the lessons in one bound book. To learn more, visit Amazon.
BOOK OFFER #3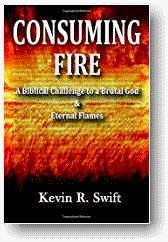 Consuming Fire: A Biblical Challenge to a Brutal God & Eternal Flames $5.99
--a 95 page paperback. Hell is real. Every single day, 150,000 people die on Planet Earth. Is a fiery oven of eternal torment the fate for the vast majority of these lost souls? If so, hellís population would swell by over a million souls every single week; thatís around 54,000,000 a year. Even one soul entering a torturous hell should give us pause.

As a Baptist ministerís son, the author was raised by a fire and brimstone preacher. However, by his late teens he wanted to know for himself what the Scriptures taught about Godís fiery punishment of sinners. This book will take you on the journey Kevin took through the Word 40 years ago, where he considered all passages relating to death and Godís judgment. After reviewing the Biblical words, definitions and phrases like ďforever, destroyed, death, spirit, cut off, unquenchable fire, torment, burned up, worm will not die, eternal punishment, consumed, ashes, destruction, fire, perish, sleep, mortality, and destructionĒ he discovered a kind and loving Father, and a future where God will wipe away all tears and every sorrow. To order this short, concise and to the point book, visit Amazon.