Names have meaning. Our names are given to us at birth, and
reflect our personality or tell a story. My name Kevin
means "
handsome,

beloved" and Swift means "one who is fast, a messenger". You might enjoy checking out your own name.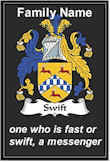 Jesus--known in Hebrew as "Yeshua" means "salvation". Names are important to God. In fact, He promises to give you

, if y
ou persevere faithfully through trial

s
,
an intimate name that only you and Messiah will know: "To him who overcomes... I will give him a white stone, and on the stone a new name written which no one knows except him who receives it," Revelation 2:17.
The white stone harks back to the ancient Roman custom of awarding white stones to the victors of athletic games. The winner of a contest was awarded a white stone with his name inscribed on it. This served as his "ticket" to a special awards banquet. Jesus promises the overcomers entrance to the eternal victory celebration in heaven. The "new name" refers to the Holy Spirit's work of conforming and transforming the end-time faithful, even in martyrdom, to the holiness of Christ (see Romans 8:29; Colossians 3:10).
In the Word of God, our Creator also reveals Himself with over 200 names and titles. This brings home the fact that there is no one "who is like God"; He is indescribable. However, God attempts to help us know Him more fully with names such as "Advocate, Almighty, Alpha & Omega, Ancient of Days and Prince of Peace". He also refers to Himself as earth, food and liquid--"the Rock, Bread of Life and Living Water" and even animals--the "Lion and the Lamb". All these have spiritual meaning and offer insight into the One who loves us. However, creature names do not diminish or lower God, but raises Him to the Highest and Holiest above all. He is all things to all of His creation in Heaven and on earth.
Our first lesson focuses on Daniel 12, and we see Michael-- the Prince "shall stand up" from a seated position--a position of authority and thrones; what follows is both earth-shaking and life-giving. In this regard, Messiah is the ultimate "malak" in Hebrew--meaning "messenger"--the Messenger of our Salvation.
Interested to delve deeper into the books of Daniel and Revelation, and to be one of the overcomers foretold in the prophecies? Check out our FREE lessons.