A Personal Message From Kevin Swift
Dear Friend of Almighty God,
Now is the time to laugh, hug, love, forgive others, seek restitution and enjoy moments with those you love. Without warning, life-altering events will explode upon this planet, turning our lives up-side-down. Millions will face death without knowing the Savior, and for those who remain during the final days many will turn to Jesus -- Yeshua our Messiah to find hope during uncertain days when every foundation will be shaken beneath us. Many professed Christians will be unprepared for these events, expecting a "rapture escape" from the horrors of a disintegrating society and last day events portrayed in the books of Daniel and Revelation. The secret rapture is a popular modern-day teaching, although introduced and promote only in the last 200 years of church history. Prior to that, no such view existed. Jesus taught and church history proves that persecution is an expected part of being a disciple of Christ. Even today, many Christians around the globe are already in tribulation. Thousands face persecution and death each and every year, while America has been a safe harbor. However, terror and confusion will soon reign throughout society at large, along with churches, governments and institutions. In the end, God's chosen will escape the great tribulation, but only just before God's wrath is poured out.
When Jerusalem is shaken and the Temple Mount and its structures collapse into ruins, and the West confronts Iran -- Israel's archenemy, the end-times will explode onto the world scene with World War and calamities. Understanding Bible prophecy will become one of the most sought after pursuits. As students of prophecy and followers of Yeshua, it is our duty to have answers to the many probing questions that will be asked as our world plummets into the long-foretold, yet unexpected, final chaos and confusion.
The Last Days that Proceed the Eternal Kingdom of God are Upon Us
Sin is rampant (but Christ offers us personal victory). As stupendous earth-altering events explode and shatter world peace, fear, turmoil and rebellion will increase. Paul foretold of this generation: "Mark this..." he wrote, "there will be terrible times in the last days. People will be lovers of themselves, lovers of money, boastful, proud, abusive, disobedient to parents, ungrateful, unholy, without love, unforgiving, slanderous, without self-control, brutal, not lovers of good, treacherous, rash, conceited, lovers of pleasure rather than lovers of God--having a form of godliness but denying its power" (2 Timothy 3:1-7) to change the heart. May God help each one of us to live with conviction and a steadfast faith in Christ that leads to overcoming sin's hold upon us. Starting with repentance and the desire that Jesus be the LORD of your life, the new birth and a victorious life is the power given to us by God's Holy Spirit through faith, if we desire to hold onto Jesus, the Author and Finisher of our faith. Yes, we all struggle to maintain holy and sanctified lives for our LORD; we find ourselves "doing what we didn't want to do". But now is the time to surrender our whole heart to God as a living sacrifice... to give Him our all as His Kingdom approaches.
The world will unite to survive (but instead, we must unite with Jesus Christ--Yeshua our Messiah). The political landscape is moving full-speed towards a global union. From the United Nations to the worldwide web, the world is reuniting once again with one language in pursuit of a New World Order. In the fall of 2008, the US and worldwide financial free-fall was a foretaste of the greater global collapse to come a decade later. A full-blown global crisis is ahead, which will bring the world's economies in line to the prophetic predictions of Revelation 13. Big institutions and any reliance upon them, including city, state and federal governments, education, real estate and finance, will break down; they will all be in shambles. Banks and insurance companies will no longer be solvent. The downfall of non-profit charities, organizations and larger church financial structures is certain. All that will remain worth holding onto is God, and our opportunity to trust fully and completely in Messiah to see us through the final ordeal, moment by moment.
The prophetic Scriptures depict this scenario, if we stand at God's defining moment: Troubles will begin to escalate and will grow into full-fledged conflict and expanding Middle East battles with a major earthquake/crisis that will bring down the Temple Mount Islamic structures and the Western Wall, causing untold devastation to Jerusalem, and angering Iran and many other Muslim nations for the loss of the Dome of the Rock and control of the area. As a result of the destruction, daily worship at the Temple Mount and Western Wall will be taken away, as turmoil escalates among the three primary religions of Jerusalem (Judaism, Islam and Christianity). This continuing chain of foretold prophetic events will lead to global-wide financial collapse and world war involving Russia, Europe, the U.S., and other nations in the weeks that follow. War, pandemics and natural disasters will escalate quickly, bringing about massive death and sudden destruction. Chaos and fear will crescendo as any semblance of anticipated world peace gives way to global conflict and untold holocaust.
Satan will intervene with powerful sky events, deceptive signs and supernatural occurrences; and, in response the world community will align under one religious/political leader who will emerge onto the world scene. The prediction is given, "All the world [will] wonder after the beast" (Revelation 13:3), who will rise up from the ashes of holocaust in miraculous signs and wonders to reign and deceive for "forty-two months" (3 1/2 years). Global unity will be considered the only answer to what will be seen as the approaching annihilation of all mankind on Planet Earth; therefore, the world will be taken captive by Lucifer's chosen one. "Even him, whose coming is after the working of Satan with all power and signs and lying wonders, and with all deceivableness of unrighteousness in them that perish; because they received not the love of the truth, that they might be saved. And for this cause God shall send them strong delusion, that they should believe a lie," 2 Thessalonians 2:9-11. This deception God allows, so that Satan's character can be unmasked and God's final work can be accomplished, which will end in the crushing defeat of Satan and all rebellious ones, and the establishment of Messiah's eternal Kingdom.
Demonic visitations will increase (but the wise will understand their evil source, and will resist them). For decades now, apparitions from demonic sources have been seen in hundreds of locations around the world. We are forewarned, "In the latter times some shall depart from the faith [of Jesus Christ], giving heed to seducing spirits [both visible and invisible], and doctrines of devils," 1 Timothy 4:1. Followers of Jesus our Messiah are, by no means, exempt from the demonic visitations and devious deceptions that will overtake our planet. These signs will be overwhelming and convincing, and the majority of earth's inhabitants will follow in-step, turning their backs on the truths and warnings of God's Word. Standing firm in unwavering faith, moment by moment, in the person and work of Jesus Christ and on His Word, including Messiah's testimony recorded by John in the book of Revelation, is our only means of spiritual survival beyond this world and to the world to come -- the Kingdom of the Most High (Revelation 1:1-3).
Over the last two to three decades there has been a growing enthusiasm among sincere prophecy students to dig deeper into the books of Daniel and Revelation, to see how they are linked together. And, although prophecy is better understood today more than previous generations, it will not be fully grasped until events become reality: "O Daniel, shut up the words, and seal the book, even to the time of the end: many shall run to and fro [in the unsealed scroll], and knowledge shall be increased" (Daniel 12:4) concerning the prophecies. The books of Daniel and Revelation have now been combined into one overarching prophetic presentation, and an end-time chart called The Kingdom Calendar has been uncovered. The Biblical timelines in Daniel and Revelation fit between the Biblical Festivals -- mysteries which have long been sealed and hidden away in the Book of Truth (Daniel 10:21) since before time began, establishing a pattern of fulfillment which connects to the Festivals.
Our Personal Response to Events that will Overtake Planet Earth
First and foremost, it is time to prepare spiritually. When the world shakes, we need a personal shaking as well; to awaken from spiritual slumber with renewed determination to live a life dedicated to Jesus our Messiah, and His divine precepts. It's our responsibility to pray for a faith that breeds spiritual tenacity and sacrifice, for holy living begins with each of us individually. We must look into the mirror of our own lives to prepare spiritually for the trials ahead, instead of focusing on others. We are responsible to God for our own behavior. Set your eyes on Yeshua -- Jesus. John eloquently wrote that everyone who "has this hope in Him [of Messiah's appearing] purifies himself, even as He is pure," 1 John 3:3. With the Spirit of God in our lives, we can live a set-apart life with balance and integrity. If God's Word will not move us towards a deeper personal relationship with our returning King and a life of righteousness, then perilous events certainly will cause us to stop and listen to the Holy Spirit's voice of holiness.
Second, we need to pursue wisdom that only comes from God's Word. We need to, of our own fruition, understand the Sacred Scriptures and His prophetic warnings, and in personal pursuit take the time to learn about God's visionary roadmap for the end of the age. The last generation will face life and death decisions. The Insights In Prophecies Series on this website is an avenue for study. Don't relegate knowledge of God's Word to your minister, priest, rabbi or teacher. It is our individual responsibility to study to show ourselves approved unto God, a workman that needs not to be ashamed, rightly dividing the Word of truth ( 2 Timothy 2:15). The Scriptures confirm, "We have the prophetic word confirmed, which you do well to heed as a light that shines in a dark place, until the day dawns and the morning star rises in your hearts; knowing this first, that no prophecy of Scripture is of any private interpretation, for prophecy never came by the will of man, but holy men of God spoke as they were moved by the Holy Spirit," (2 Peter 1:19-21). We are admonished without reservation, "Follow the way of love and eagerly desire gifts of the Spirit, especially prophecy," (1 Corinthians 14:1).
Third, it's time to prepare physically. It seems appropriate to prepare to invest in personal commodities, such as food, seeds, gardening and hand tools, etc. Consider the physical needs of your family. We provide here an informational list of links to help you plan called Family Survival. Be ready at a moment's notice to store a few supplies and prepare for disasters. You may want to prayerfully consider leaving the larger cities to move to a rural setting where you can grow food as needed. Be prepared to develop safety plans with your neighbors to protect against gangs and crimes that are bound to increase as our society disintegrates into chaos. This is sound advice, no matter what part of the world you live in.
Fourth, it is time to teach others to prepare for the Kingdom of God. Trusting in Jesus Christ and His gospel message of hope is the basis of our faith and life eternal. This is good news, because Yeshua is about to wrap up the sin problem and establish His universal Kingdom. End-time warnings and events, along with His counting periods, will take us through these trials; every essential detail is revealed in the books of Daniel and Revelation (Revelation 1:1-3). His spiritual roadmap must be shared with our family, friends and acquaintances -- all in need of hope in these troubled times. The future involves important decisions for you, your family and your friends. By standing firm by faith, we have the promise of a Better City whose builder and maker is God, which will replace the worn out and distressed cities of this planet. Jesus noted about the last generation, "because of the increase of wickedness, the love of most will grow cold, but he who stands firm to the end will be saved. And this gospel of the kingdom will be preached in the whole world as a testimony to all nations, and then the end will come... Do not let your hearts be troubled. Trust in God; trust also in Me. In My Father's house are many rooms; if it were not so, I would have told you. I am going there to prepare a place for you [the New Jerusalem]. And if I go and prepare a place for you, I will come back and take you to be with Me that you also may be where I am [in Heaven]," Matthew 24:12-14; John 14:1-3. It is our personal responsibility to tell others the truth, to lead them to the crucified and risen Savior of mankind, and to stand unwavering to the end. As the song goes, "This world is not my home, I'm just a passing through. My treasures are laid up, somewhere beyond the blue... and, I can't feel at home in this world anymore."
By God's grace and guidance, by trusting in the LORD hour by hour, day by day, we will endure to the end and meet together at His Heavenly Temple (Revelation 7:13-17). What an honor it will be to serve in the most sacred and marvelous location in the universe... the Sanctuary of the Most High, in the very presence of the Father and Yeshua -- the Creator of the Universe and our conquering King!
Yeshua our King Will Show Us the Way!
This NASA satellite photo of Israel is a unique view of the land that has been, and will continue to be, the center of the spiritual controversy. From a great distance it seems but only a dry wilderness; however, as we get closer we discover a land teeming with millions of people and lives filled with daily activities. At the epicenter is Jerusalem, and in the center of

Jerusalem we find the Temple Mount. Here is where prophecy finds its nexus and will play out on the world stage, and where Antichrist will set up his abomination that will usher in God's wrath.
Yeshua humbled Himself, descending from Heaven's throne 2,000 years ago to the womb of a Jewish virgin, to be born in the land of Israel to meet with mankind personally and to reveal His Father's love. He died a martyr's death on a blood-spattered cross just outside of Jerusalem, so that we might find life, and the way to a better country and to the New City which is from above.
However, before we reach the New Jerusalem a wilderness journey must, of necessity, be traveled. About 3,500 years ago, the people of Israel entered this dry wilderness land on their way to Canaan; and likewise, our modern journey towards Heaven will either harden us or will purify, refine and make spotless our compromising hearts (Daniel 12:10). Most of us will be unprepared for the trials and persecutions that we and our families must face. And, even the betrayal by our own friends and family for standing on God's Word. For the most part, we are not accustom to hardship and struggles. Words cannot begin to describe what lies ahead; our minds cannot fathom the strangeness of it all -- when fear will strike our souls, and death and loss will bear down upon us. However, the Word of God reveals a spiritual journey of three and one-half (3 1/2) years that we must endure; perilous tragedies of the appointed time that leads to Heaven's long-awaited Kingdom, which will never end. Just as events will begin on His Festival schedule, so too we can have enduring hope and confidence in the appointed times and counting periods will end right on time, as His Festival Calendar template reveals.
The answer to life's final trials are found in a personal relationship with our LORD and Savior, and a better understanding of end-time events portrayed in the books of Daniel and Revelation. God provides hope through His prophetic predictions, promising on His good Name that He will finish the work of His redemptive plan and usher in His Kingdom on the counting Calendar of His choosing. With God's loving guidance provide in His Word, and by following Messiah's Festival counting Calendar during these last days, we can live with sincere hope and eager anticipation of the returning King, knowing that time is short. In the midst of sickness, poverty, threats, sorrow, pain and even death, we can know that Satan's days are numbered, and the end of this world's troubles are in sight. It is our duty to be an advocate of hopeful thinking, even during the darkest trials. God provides the reassurance that on that future Day there will be no more death, sorrow and crying (Revelation 21:1-4).
Keep looking up,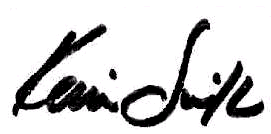 Kevin R. Swift
"Now when these things begin to happen, look up and lift up your heads, because your redemption draws near," Luke 21:28.
There is a time for everything, and a season for every activity under the heavens:
a time to be born and a time to die, a time to plant and a time to uproot,
a time to kill and a time to heal, a time to tear down and a time to build,
a time to weep and a time to laugh, a time to mourn and a time to dance,
a time to scatter stones and a time to gather them, a time to embrace and a time to refrain from embracing,
a time to search and a time to give up, a time to keep and a time to throw away,
a time to tear and a time to mend, a time to be silent and a time to speak,
a time to love and a time to hate, a time for war and a time for peace.