America's Decline & Judgment
Was Donald Trump's Presidency Foretold in Prophecy?
Is America ripe for judgment? Many years ago, Thomas Jefferson said: "I tremble for my country when I reflect that od is just; and that His justice cannot sleep forever. In recent decades, Billy Graham quipped, "If God doesn't judge America He will have to apologize to Sodom and Gomorrah!"
Abraham Lincoln knew the source from which America's greatness came. During an address on March 30, 1863, during which he declared a day of prayer and fasting, he stated: "[I]t is the duty of nations, as well as of men, to own their dependence upon the overruling power of God and to recognize the sublime truth, announced in the Holy Scriptures and proven by all history, that those nations only are blessed whose God is the Lord… We have been the recipients of the choicest blessings of heaven. We have been preserved, these many years, in peace and prosperity. We have grown in number, wealth and power as no other nation ever has grown: But we have forgotten God! We have forgotten the gracious Hand which preserved us in peace, and multiplied and enriched and strengthened us; and we have vainly imagined, in the deceitfulness of our hearts, that these blessings were produced by some superior wisdom and virtue of our own."
The prophecies point to the rise of Donald Trump, the President who will "do as he pleases". His rise follows the fourth President of Iran, Rafsanjani. Daniel 11:2-4 prophesies: "Now then, I tell you the truth: Three more kings will arise in Persia [modern-day Iran-(1) President Banisadr; (2) President Rajar and (3) President Khamenei]; and, then a fourth [President Akbar Hashemi Rafsanjani], who will be far richer than all the others [he was featured in the Forbes Magazine because of his wealth]. When he has gained power by his riches, he will stir up everyone against the kingdom of Greece [Hebrew: "Javan"--Greece, and the West]." Rafsanjani played a primary role in the establishment of the 1979 Islamic Republic of Iran—a repressive, totalitarian theocracy, which gained in strength and regional dominance each decade. He was also the progenitor of Iran's nuclear energy and weapons program, which stoked Iran's brazenness and state sponsored terrorism over the last 35 years. He served on the "Committee for Special Operations" that oversaw foreign assassinations, the Khobar Towers attack, the murder of 19 U.S.-service men and women, and the bombing of a Jewish community center in Buenos Aires. By his wealth, status, position and promptings, he built Iran's economy and religious Shiite passion, which awakened Islam's radical rage against the West. And, just as prophecy predicted, his stirring in Iranian politics has led Iran to the doorstep of war.
Rafsanjani died and was buried on January 10, 2017; ten days later Donald Trump was inaugurated the 45th President of the United States on January 20, 2017. The Daniel 11 prophecy continues, with commentary: "Then a mighty king [modern-day ruler] will arise [Donald Trump], who will rule with great power and do as he pleases [a man willing to chart his own course and doing as he pleases, even against the norm]. After he has arisen [taken office], his empire [America] will be broken up [superpower destroyed; tragedies; war; economic collapse; social disorder] and parceled out toward the four winds of heaven [last American President to rule, while the U.S. is a superpower; the sudden demise of the U.S. is foretold during his Presidency]."

The prophecy ends, "It [American empire] will not go to his descendants [the normal election process will end; may be the last President to be put in office by American voters], nor will it have the power he exercised, because his [American] empire will be uprooted and given to others [the United Nations--One World Order]."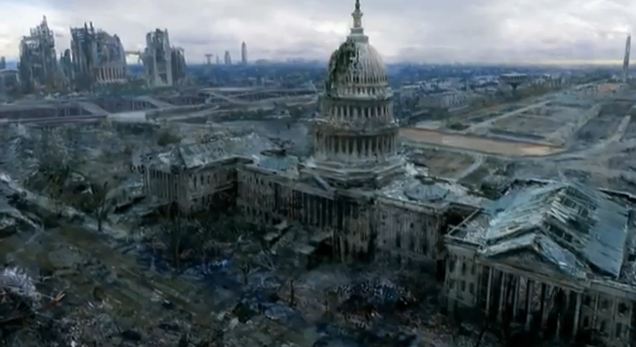 Is this where the U.S. is headed as a nation? Sadly, it seems so, according to the Hebrew prophecies.
Yes, America is in a downward spiral, and will pay the price for our sinful and stupid decisions. States, counties and cities can no longer keep up with their expenses. Many streets and highways are not maintained as they should be. Debt is growing, and any major downturn in the economy will bring cities, counties and states to financial ruin; yet, the spending continues nearly unabated. America has already undergone "spiritual and moral disintegration"--a cancer that is fundamentally destroying the national fiber of this nation.
This disintegration has occurred mostly in the last 50 years--abortion, homosexuality and pornography are rampant. As of 2014-2015, gay marriage is now the norm in America. What is bound to follow moral decay is economic collapse, the likes of which this nation has never experienced. National debt along with continued overspending is driving the forces of inflation, and eventually debt bankrupt and destroy what's left. America and her glorious past will come to an end.
America may experience war/destruction that brings down the financial sector; or, the global financial collapse may lead to global war. Nonetheless, the future may include some form of chemical, biological and/or radiological warfare with the spread of deadly epidemics (pestilences). If so, because of quarantine periods and gas shortages, the normal means of supplies (food, water, etc.) could be interrupted for extended periods of time. For years the warning has been given: if at all possible, move out of the larger cities to a rural setting, or to a smaller community, to secure homes and garden spots in preparation for perilous times. World news and international tensions confirm that momentous events are on the horizon, and God's Hebrew Calendar will soon to be fulfilled. Daniel's timelines will have their historic beginning, and prophetic events will become front page news.

The world's stock markets will pump up to higher levels by the New York bandits, but will ultimately collapse under the pressures of global debt, war and widespread destruction. You may consider depositing funds in only strong banking institutions--rated B+ or better. Money market funds that specialize in short-term U.S. Treasury-only bills are also considered to be safe havens by some professionals.
The U.S. government is overly optimistic in fulfilling their many pledges to financial institutions and the American people: "The government is making too many promises, some of which they will not be able to keep. It's a pipedream to think the U.S. government will be able to take care of their own massive obligations and rescue the banks, and save the big brokers, and fund the FDIC, and backstop the short-term borrowing of thousands of corporations, and on top of that, save local and foreign governments," says Martin Weiss, Ph.D., founder and president of Weiss Research, Inc.
Trillion dollar bailouts will not be the answer (What does one TRILLION dollars look like?). America is trillions in debit and growing a trillion more each year; and, this overspending is bankrupting the nation. Americans need to be prepared for the U.S. default. U.S. debt will someday implode under the duress of the country's default and/or the dollar's dramatic devaluation. This implosion will also likely bring down the United Kingdom and all countries closely integrated to the U.S. economy and finance, and the allies financially over-dependent on them, as well as other major markets.
American citizens may one day discover that, after a weekend or bank holiday, U.S. treasury bonds and dollars are only worth a small percent of their value because a new system has been imposed. The global collapse will lead the way for the eventual mark of the beast in order to buy and sell (Revelation 13:16-17). Americans can expect riots and mayhem in the streets, and the U.S. government seems to be preparing for large scale social disorder.
Only God knows if the months/years to follow will bring the unfolding of final events and the rise of the New World Order, but the winds of strife continue to blow and the end looks to be near.
"When People Lose Everything, They Have Nothing Left To Lose, And They Lose It" Gerald Celente.
America Is In The Spiritual Danger Zone
Over the past fifty years, America has crossed all of these dangerous biblical boundaries:
• 1962 – Engel v. Vitale: the removal of Prayer in public schools by the Supreme Court.
• 1963 – Abington School District v. Schempp: the removal of Bible reading in public schools by the Supreme Court.
• 1973 – Rowe v. Wade legalized abortions by the Supreme Court. Since America has performed over 55 million abortions. Presently about one million abortions are occurring per year in America.
• 2013 – United States v. Windsor: the case that the Supreme Court struck down the Defense of Marriage Act (DOMA). DOMA stated that one man should be married to one woman. DOMA was biblically supported according to Genesis 2:24, "Therefore a man shall leave his father and mother and be joined to his wife, and they shall become one flesh."
• 2015 – Obergefell v. Hodges: the Supreme Court case that ruled in favor of Same Sex Marriages, which is unbiblical according to Romans 1:27 and elsewhere.
• 2015 – The present White House Administration has turned its back on Israel. Obama believes the Iran nuclear deal is good, but Israeli Prime Minister Netanyahu believes it's the worst deal imaginable.
• 2016 – The populace election of the most morally corrupt President in American history, and an abortion and gay marriage promoter to the left liberal extreme.
Current U.S. News Updates
DISCLAIMER: The articles below are from various new sources. The views expressed often DO NOT represent those of this ministry.
Sep 18, 2020
Supreme Court Justice Ruth Bader Ginsburg dies at 87
Sep 17, 2020
Trump touts Middle East peace deals in Rosh Hashanah message to US Jews
Sep 17, 2020
Gay marriages rise 5 years after Supreme Court ruling
Sep 17, 2020
Trump: We thank God for all the Good things that Happened to Israel under my Administration
Sep 11, 2020
What Pastor Dana Coverstone Was Just Shown About The Statue Of Liberty Shook Him To The Core – Everyone Needs To Hear This!
Sep 2, 2020
Chicago, Portland, Baltimore – The Things We Have Been Warned About Are Now Starting To Happen Everywhere
Sep 2, 2020
'I Am 100% ANTIFA All the Way,' Portland Shooting Suspect Said, Warning of 'War' to Come
Sep 2, 2020
VIDEO: Prominent Democrats openly call for violence, riots, and uprisings
Aug 31, 2020
America's mayhem and massive decline in Christianity
Aug 31, 2020
The Left's end goal is perpetual civil war..
Aug 28, 2020
Trump attacks Biden, Democratic leaders at rally, says DC police took 'tremendous abuse' protecting those who left RNC
Aug 25, 2020
We Should Mourn For What Is Happening To America
July 19, 2020
Gun Sales Pushed to All Time Highs Amidst Rising Crime, "Defund the Police" Nonsense
July 16, 2020
Now Biden warns planet has only 9 years to save itself!
July 15, 2020
July 15, 2020
Thomas Sowell: U.S. could reach 'point of no return' under Biden
July 15, 2020
Catholic Churches Across The Country Burned, Vandalized Over The Weekend
July 1, 2020
Pizza Hut, Wendy's franchisee expected to file for bankruptcy
May 9, 2020
Top JPMorgan Investment Officer: It Will Take '10 to 12 Years' for U.S. Employment Levels to Return
May 6, 2020
White House balks as models show frightening acceleration of future coronavirus deaths
Apr 28, 2020
White House economic advisor Kevin Hassett says unemployment rate will approach Great Depression
Apr 15, 2020
U.S. coronavirus deaths increase by record amount for second straight day - Reuters tally
Apr 15, 2020
Washington Post: The U.S. has thrown more than $6 trillion at the coronavirus crisis. That number could grow.
Mar 28, 2020
The Pace At Which The Coronavirus Is Changing Life In America Is Absolutely Breathtaking
Mar 15, 2020
Newt Gingrich: I Am In Italy Amid The Coronavirus Crisis. America Must Act Now—And Act Big
Mar 14,2020
White House coronavirus expert Dr. Anthony Fauci says complete US shutdown is 'on the table' and warns the crisis could last TWO MONTHS
Mar 14, 2020
Mar 13, 2020
In shadow of coronavirus, American Jews brace for a Shabbat like no other
Mar 13, 2020
BREAKING: President Trump declares "national emergency." Authorizes $50 billion for state/local response to coronavirus pandemic. CDC analysis warns up to 1.7 million Americans could die. Here's what we know at the moment.
Mar 13, 2020
White House coronavirus expert Dr. Anthony Fauci says complete US shutdown is 'on the table' and warns the crisis could last TWO MONTHS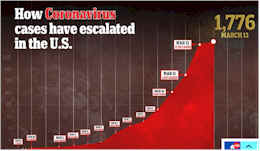 Mar 12, 2020
Congress closes Capitol, congressional offices to public amid coronavirus concerns
Mar 11,2020
NCAA March Madness basketball games will be played without fans
Mar 11, 2020
Trump suspends ALL travel from Europe for 30 days starting Friday as he addresses nation on coronavirus
Mar 11, 2020
NBA suspends season until further notice after player tests positive for the coronavirus
Mar 10, 2020
NYC coronavirus cases are 'coming in so intensely now,' Mayor de Blasio says
Mar 5, 2020
Coronavirus: US banks ready disaster plans: sources
Mar 3, 2020
Nashville tornado: Over 40 building collapses
Feb 29, 2020
US-Taliban sign peace deal – US troops to exit Afghanistan in 14 months
Feb 27, 2020
Really Big News About The Coronavirus In The United States Just Dropped
Feb 25, 2020
San Francisco declares state of emergency over coronavirus
#1 "It's not so much of a question of if this will happen in this country anymore but a question of when this will happen."
#2 "Disruption to everyday life may be severe."
#3 "We are asking the American public to prepare for the expectation that this might be bad."
Feb 25, 2020
US confirms 53 coronavirus cases, including evacuated cruise passengers
Feb 22, 2020
US prepares for possible coronavirus pandemic, WHO officials say Iran outbreak 'worrisome'
Feb 14, 2020
BREAKING: Shock new poll finds Bernie Sanders — avowed "socialist" proclaiming "revolution" — ahead of all Democratic presidential contenders.
Feb 13, 2020
Pompeo: UN blacklist shows its 'unrelenting anti-Israeli bias'
Feb 12, 2020
Senate passes war powers measure restricting Trump on Iran; the president can veto
Feb 6, 2020
Kushner to Discuss Mideast Plan at UN as Annexation Pressure Mounts in Israel