America's Decline & Judgment
Was Donald Trump's Presidency Foretold in Prophecy?
Is America ripe for judgment? Many years ago, Thomas Jefferson said: "I tremble for my country when I reflect that od is just; and that His justice cannot sleep forever. In recent decades, Billy Graham quipped, "If God doesn't judge America He will have to apologize to Sodom and Gomorrah!"
Abraham Lincoln knew the source from which America's greatness came. During an address on March 30, 1863, during which he declared a day of prayer and fasting, he stated: "[I]t is the duty of nations, as well as of men, to own their dependence upon the overruling power of God and to recognize the sublime truth, announced in the Holy Scriptures and proven by all history, that those nations only are blessed whose God is the Lord… We have been the recipients of the choicest blessings of heaven. We have been preserved, these many years, in peace and prosperity. We have grown in number, wealth and power as no other nation ever has grown: But we have forgotten God! We have forgotten the gracious Hand which preserved us in peace, and multiplied and enriched and strengthened us; and we have vainly imagined, in the deceitfulness of our hearts, that these blessings were produced by some superior wisdom and virtue of our own."
The prophecies point to the rise of Donald Trump, the President who will "do as he pleases". His rise follows the fourth President of Iran, Rafsanjani. Daniel 11:2-4 prophesies: "Now then, I tell you the truth: Three more kings will arise in Persia [modern-day Iran-(1) President Banisadr; (2) President Rajar and (3) President Khamenei]; and, then a fourth [President Akbar Hashemi Rafsanjani], who will be far richer than all the others [he was featured in the Forbes Magazine because of his wealth]. When he has gained power by his riches, he will stir up everyone against the kingdom of Greece [Hebrew: "Javan"--Greece, and the West]." Rafsanjani played a primary role in the establishment of the 1979 Islamic Republic of Iran—a repressive, totalitarian theocracy, which gained in strength and regional dominance each decade. He was also the progenitor of Iran's nuclear energy and weapons program, which stoked Iran's brazenness and state sponsored terrorism over the last 35 years. He served on the "Committee for Special Operations" that oversaw foreign assassinations, the Khobar Towers attack, the murder of 19 U.S.-service men and women, and the bombing of a Jewish community center in Buenos Aires. By his wealth, status, position and promptings, he built Iran's economy and religious Shiite passion, which awakened Islam's radical rage against the West. And, just as prophecy predicted, his stirring in Iranian politics has led Iran to the doorstep of war.
Rafsanjani died and was buried on January 10, 2017; ten days later Donald Trump was inaugurated the 45th President of the United States on January 20, 2017. The Daniel 11 prophecy continues, with commentary: "Then a mighty king [modern-day ruler] will arise [Donald Trump], who will rule with great power and do as he pleases [a man willing to chart his own course and doing as he pleases, even against the norm]. After he has arisen [taken office], his empire [America] will be broken up [superpower destroyed; tragedies; war; economic collapse; social disorder] and parceled out toward the four winds of heaven [last American President to rule, while the U.S. is a superpower; the sudden demise of the U.S. is foretold during his Presidency]."

The prophecy ends, "It [American empire] will not go to his descendants [the normal election process will end; may be the last President to be put in office by American voters], nor will it have the power he exercised, because his [American] empire will be uprooted and given to others [the United Nations--One World Order]."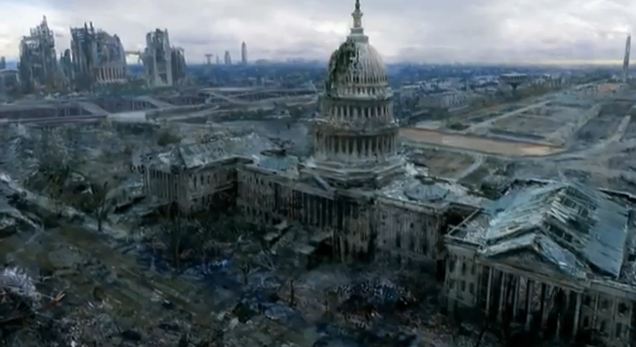 Is this where the U.S. is headed as a nation? Sadly, it seems so, according to the Hebrew prophecies.
Yes, America is in a downward spiral, and will pay the price for our sinful and stupid decisions. States, counties and cities can no longer keep up with their expenses. Many streets and highways are not maintained as they should be. Debt is growing, and any major downturn in the economy will bring cities, counties and states to financial ruin; yet, the spending continues nearly unabated. America has already undergone "spiritual and moral disintegration"--a cancer that is fundamentally destroying the national fiber of this nation.
This disintegration has occurred mostly in the last 50 years--abortion, homosexuality and pornography are rampant. As of 2014-2015, gay marriage is now the norm in America. What is bound to follow moral decay is economic collapse, the likes of which this nation has never experienced. National debt along with continued overspending is driving the forces of inflation, and eventually debt bankrupt and destroy what's left. America and her glorious past will come to an end.
America may experience war/destruction that brings down the financial sector; or, the global financial collapse may lead to global war. Nonetheless, the future may include some form of chemical, biological and/or radiological warfare with the spread of deadly epidemics (pestilences). If so, because of quarantine periods and gas shortages, the normal means of supplies (food, water, etc.) could be interrupted for extended periods of time. For years the warning has been given: if at all possible, move out of the larger cities to a rural setting, or to a smaller community, to secure homes and garden spots in preparation for perilous times. World news and international tensions confirm that momentous events are on the horizon, and God's Hebrew Calendar will soon to be fulfilled. Daniel's timelines will have their historic beginning, and prophetic events will become front page news.

The world's stock markets will pump up to higher levels by the New York bandits, but will ultimately collapse under the pressures of global debt, war and widespread destruction. You may consider depositing funds in only strong banking institutions--rated B+ or better. Money market funds that specialize in short-term U.S. Treasury-only bills are also considered to be safe havens by some professionals.
The U.S. government is overly optimistic in fulfilling their many pledges to financial institutions and the American people: "The government is making too many promises, some of which they will not be able to keep. It's a pipedream to think the U.S. government will be able to take care of their own massive obligations and rescue the banks, and save the big brokers, and fund the FDIC, and backstop the short-term borrowing of thousands of corporations, and on top of that, save local and foreign governments," says Martin Weiss, Ph.D., founder and president of Weiss Research, Inc.
Trillion dollar bailouts will not be the answer (What does one TRILLION dollars look like?). America is trillions in debit and growing a trillion more each year; and, this overspending is bankrupting the nation. Americans need to be prepared for the U.S. default. U.S. debt will someday implode under the duress of the country's default and/or the dollar's dramatic devaluation. This implosion will also likely bring down the United Kingdom and all countries closely integrated to the U.S. economy and finance, and the allies financially over-dependent on them, as well as other major markets.
American citizens may one day discover that, after a weekend or bank holiday, U.S. treasury bonds and dollars are only worth a small percent of their value because a new system has been imposed. The global collapse will lead the way for the eventual mark of the beast in order to buy and sell (Revelation 13:16-17). Americans can expect riots and mayhem in the streets, and the U.S. government seems to be preparing for large scale social disorder.
Only God knows if the months/years to follow will bring the unfolding of final events and the rise of the New World Order, but the winds of strife continue to blow and the end looks to be near.
"When People Lose Everything, They Have Nothing Left To Lose, And They Lose It" Gerald Celente.
America Is In The Spiritual Danger Zone
Over the past fifty years, America has crossed all of these dangerous biblical boundaries:
• 1962 – Engel v. Vitale: the removal of Prayer in public schools by the Supreme Court.
• 1963 – Abington School District v. Schempp: the removal of Bible reading in public schools by the Supreme Court.
• 1973 – Rowe v. Wade legalized abortions by the Supreme Court. Since America has performed over 55 million abortions. Presently about one million abortions are occurring per year in America.
• 2013 – United States v. Windsor: the case that the Supreme Court struck down the Defense of Marriage Act (DOMA). DOMA stated that one man should be married to one woman. DOMA was biblically supported according to Genesis 2:24, "Therefore a man shall leave his father and mother and be joined to his wife, and they shall become one flesh."
• 2015 – Obergefell v. Hodges: the Supreme Court case that ruled in favor of Same Sex Marriages, which is unbiblical according to Romans 1:27 and elsewhere.
• 2015 – The present White House Administration has turned its back on Israel. Obama believes the Iran nuclear deal is good, but Israeli Prime Minister Netanyahu believes it's the worst deal imaginable.
• 2016 – The populace election of the most morally corrupt President in American history, and an abortion and gay marriage promoter to the left liberal extreme.
Current U.S. News Updates
DISCLAIMER: The articles below are from various new sources. The views expressed often DO NOT represent those of this ministry.
Jan 17, 2021
Hundreds of Trump accomplishments finally put into a single, gigantic list
Jan 17, 2021
'Impeach Barack Obama': Lindsey Graham suggests liberals' worst nightmare
Jan 17, 2021
Big tech silences Trump, stones Parler. Will Christians and Israel be next?
Jan 14, 2021

Top Rabbi: America is Collapsing, Israel must Step Up as new World Superpower
Jan 14, 2021

Why America Will Fall From Super Power Status...
The 4 Reasons to Expect the Decline of America, Part 2...
Jan 13, 2021
Twitter, Facebook Lose $51 Billion in Value After Booting Trump
Jan 13, 2021
President Trump impeached second time by US House
Jan 12, 2021
Trump declares two-week-long emergency in DC
Jan 12, 2021
Deutsche Bank to Pull Back From Business With Trump and His Company
Jan 12, 2021
Dershowitz: 'It's Unconstitutional' to Impeach Trump for 'Constitutionally Protected Speech'
Jan 9, 2021
Lindsey Graham is 'more determined than ever' to strip tech companies of legal protections after Twitter bans Trump
Jan 9, 2021
Facebook just deleted anti-Democrat 'WalkAway' page from platform, founder Brandon Straka said
Jan 8, 2021
Pelosi spoke to Pentagon to prevent Trump from using nukes, taking military action
Jan 8, 2021
Trump announces in tweet he won't attend Biden's inauguration
Jan 7, 2021
Congress certifies Biden as president, Trump pledges orderly transition after protesters riot on Capitol Hill
Jan 6, 2021
Rev. Graham: 'God's Judgment is Coming, For the Sins of Our Nation Are Great'
Jan 6, 2021
A shooting victim removed as Capitol Hill is stormed by protesters
Jan 6, 2021
VIDEOS: Biden certification halted, House, Senate locked down as Trump supporters storm Capitol building
Jan 4, 2021
Mike Pence 'welcomes' the efforts of Republican lawmakers to challenge Biden's win, days before Congress is due to certify the election results
Jan 3, 2021
The United States Has Become A Banana Republic
Jan 3, 2021
Sen. Cruz on 'Sedition' Hyperbole: 'Calm Down; Tone Down Rhetoric'
Jan 1, 2021
Coming soon! U.S. intelligence report on 'unidentified aerial phenomena'
Dec 29, 2020
Joe Biden again says the quiet part out loud: "President-Elect Harris"
Dec 29, 2020
Rasmussen Poll: 72 Percent Say Trump Is Model for GOP
Dec 26, 2020
Russia sees relations with US going 'from bad to worse'
Dec 18, 2020
Rep. Mo Brooks to Newsmax TV: Senators 'Shaking in the Foxhole'
Dec 18, 2020
Pentagon abruptly halts Biden transition meetings
Dec 17, 2020
Pentagon, DHS, State Dept., 18,000 others possibly hacked by Russia, reports say
Dec 17, 2020
2020 Election: The Immaculate Deception; Six Key Dimensions of Election Irregularities
Dec 15, 2020
Ret. Gen Flynn warns of unelected 'tyrants,' says 'time for God-fearing Americans to fight'
Dec 14, 2020
Electoral College affirms Biden victory and AG Barr resigns at the same time
Dec 14, 2020
When 2-year-olds are thrown off planes, you know America has changed - Dennis Prager
Dec 14, 2020
Trump: 'This election is under protest!'
Dec 14, 2020
Biden says 'democracy prevailed' as US Electoral College affirms his victory
Dec 10, 2020
The most controversial Supreme Court case since Bush v. Gore will decide who is president for the next 4 years
Dec 9, 2020
EIGHT states have now joined Texas lawsuit, arguing that the Equal Protection Clause has been violated in this election
Dec 6, 2020
Giuliani: 3 State Legislatures Could Change Electoral College Voters
Dec 1, 2020
Trump campaign to file Wisconsin lawsuit, claiming 'abuse' of absentee voting affected 220K ballots
Nov 29, 2020
Pennsylvania Judge Files Memorandum Stating 2020 PA Election Likely Unconstitutional – Trump Case "Likelihood to Succeed" – Gives State Legislators Power to Choose Electors!
Nov 29, 2020
Reasons why the 2020 presidential election is deeply puzzling
Nov 29, 2020
"I'm Going to Use 125% of My Energy to Do It" – President Trump Vows to Reveal Massive Voter Fraud and Overturn Results in 2020 Election (VIDEO)
Nov 26, 2020
GAO: Military aircraft missing readiness target
Nov 26, 2020
Thanksgiving 1918 took place during a deadly pandemic. What can it teach us for Thanksgiving 2020?
Nov 25, 2020
Supreme Court Backs Churches, Synagogues on NYC Covid Rules
Nov 23, 2020
The End Times New World Order Promised to Us by George H.W. Bush Is About to Be Delivered Through a Joe Biden and Kamala Harris Presidency
Nov 23, 2020
John Kerry Talks 'Great Reset': 'We're at the Dawn of Extremely Exciting Time'
Nov 16, 2020
Pompeo kicks off 7-nation tour in France; will travel to Israel, Saudi Arabia
Nov 14, 2020
Pro-Trump supporters descend on DC for 'Million MAGA March' near White House
Nov 9, 2020
McConnell: 'Let's not have any lectures' from Democrats who denied 2016 result
Nov 7, 2020
Rudy Giuliani says Trump will not concede election
Nov 7, 2020
World leaders rush to congratulate Joe Biden as 46th US President. Trump fights on
Nov 7, 2020
AP, CNN, Fox, NBC call race for Biden after Trump tweets he 'Won by a lot' promising continuing legal challenges
Nov 6, 2020
Trump's Press Secretary calls on world to Join her in Live Prayer Group
Nov 6, 2020
Trump: Democrats Knew They Couldn't Win; 'That's Why They Did the Mail-In Ballots'
Nov 5, 2020
Trump Says He'll Go to Supreme Court: 'As Far as I'm Concerned, We Already Have Won'
Nov 3, 2020
Exit polls show economy, virus top issues for US voters as election nears end
Nov 3, 2020
From coast to coast, cities all across America are bracing for complete and utter chaos
Nov 2, 2020
Newt Gingrich: If election riots break out, Trump should follow Lincoln's advice