Video Tour
Epic Center of the Ancient Biblical Prophecies
& Final Events
Israel, the city of Jerusalem and the Temple Mount are the focus of end-time events--the epicenter of Bible prophecy. According to Daniel's visions, the modern-day destruction of the Temple Mount begins the end-time prophetic counting periods, as seen on The Kingdom Calendar. Yeshua, the greatest Prophet, forewarned of calamities that would strike the Temple Mount area, "Not one stone here will be left on another; every one will be thrown down," Matthew 24:2. Once the quaking brings down the structures, the 1,290 prophetic counting days will begin... the days that will lead to a rebuilt temple.
"From the time that the daily ["tamid"--continual worship]... is

abolished [at the Western Wall & Temple Mount] and the abomination that causes desolation is set up [on the Temple Mount], there will be 1,290 days. Blessed is the one who waits for and reaches the end of the 1,335 days," Daniel 12:11-12.
One articles states, "When King Herod built the Temple Mount he filled some portions with rubble, but he also constructed vast underground halls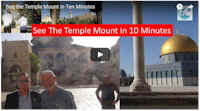 with large pillars to support the upper structure. The entire structure is a carefully engineered design, and contains stones weighing up to 150 tons. Simple logic would dictate that tampering with the structural design could bring the entire structure crashing down."
"Adding an earthquake to the mix of improper construction methods only increases the risk of total failure. Israel has a history of earthquakes which date back to 31 BC. The Dead Sea Rift runs the length of Israel, and passes directly under the Temple Mount. Seismologists state that unfelt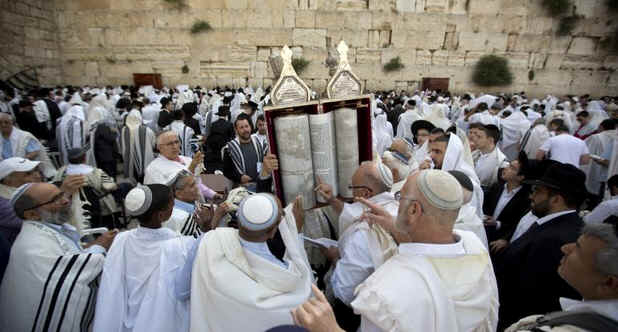 tremors happen constantly in the rift, and underline the instability of the region. The Hebrew prophet Zechariah, told of a coming earthquake that would split the Mount of Olives in two, creating a large valley."
"If for any reason the Temple Mount is damaged or ruined, the outcry from the world's Muslim population would be severe, and all fingers would be pointed at the Jews. This would be especially true the Dome of the Rock was damaged or destroyed. However, it appears that the Palestinians may be creating a disaster of their own doing, and will have no one to blame but themselves." Source
The third Temple or at least a portion of the Temple will be rebuilt during the last days. The Temple Institute in Jerusalem is dedicated to a rebuilt temple and every aspect of the Holy Temple of Jerusalem. Their website says, "the central role it fulfilled, and will once again fulfill, in the spiritual well-being of both Israel and all the nations of the world. The Institute's work touches upon the history of the Holy Temple's past, an understanding of the present day, and the Divine promise of Israel's future. The Institute's activities include education, research, and development. The Temple Institute's ultimate goal is to see Israel rebuild the Holy Temple on Mount Moriah in Jerusalem, in accord with the Biblical commandments."
"THE TEMPLE INSTITUTE CONSIDERS IT OF PRIMARY IMPORTANCE to educate about the great significance of Mount Moriah, the Temple Mount in Jerusalem, the only site in the world that is considered holy by the Jewish people, and the only site in the world which G-d chose to rest His presence through the establishment of the Holy Temple. Click here to learn more about the sacred ."
It's sad that the rebuilt Temple will be made available to Antichrist to set up his abomination, which will usher in Jerusalem's final destruction. "When you see Jerusalem being surrounded by armies, you will know that its desolation is near. Then let those who are in Judea flee to the mountains, let those in the city get out, and let those in the country not enter the city. For this is the time of punishment in fulfillment of all that has been written," Luke 21:20-22.
Videos about Jerusalem, the Temple Mount & Third Temple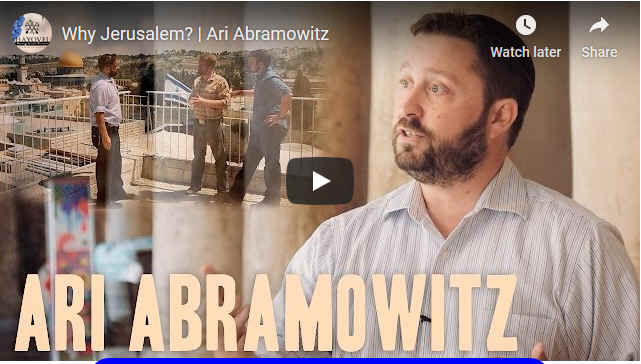 Jerusalem sits in a "high risk" area for a major earthquake, according to the map below.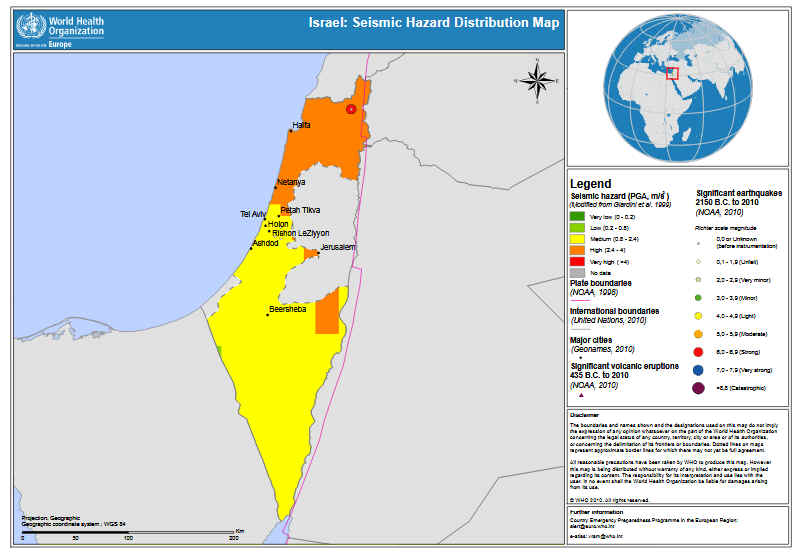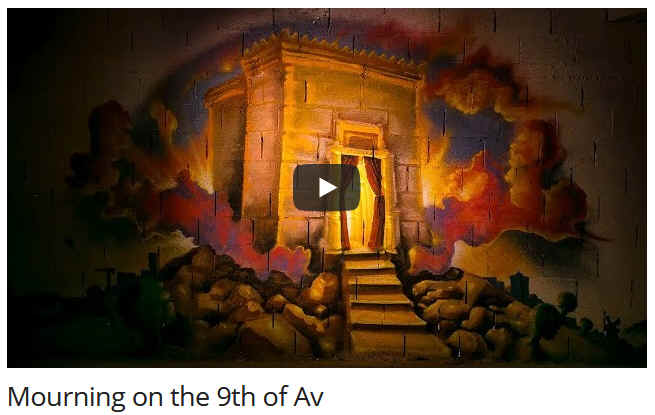 In the Jewish article, 5 Biblical Prophecies Fulfilled in 2018 and 5 Expected in 2019, published on January 2, 2019 by Breaking News Israel, this sign was offered as evidence we are at the end-of-days.
Increasing Control Over Temple Mount and End of Ishmael's Reign
These were the years of the life of Ishmael: one hundred and thirty-seven years; then he breathed his last and died, and was gathered to his kin. Genesis 25:18
"The year 2018 began with a lunar eclipse signaling "a harsh period for B'nei Ishmael (sons of Ishmael, i.e. the Arab nations), which is necessary for the beginning of Moshiach (Messiah)," Rabbi Berger, the Rabbi of King David's Tomb on Mount Zion, told Breaking Israel News. In Genesis, it is told that when Ishmael falls, it will be the end-of-days and the Son of David (the Messiah) will flourish and the Temple Mount will change from its current state into its prophetic role as a "House of Prayer for All Nations." When one views the struggle over Temple Mount sovereignty as a zero-sum game between B'nei Ishmael and B'nei Yitzhak, one could conclude that this year's increase of Jewish presence on the Temple Mount signals the end of Ishmael's reign. Indeed, in 2018, more Jews ascended the Temple Mount than ever before since the Jewish Temple stood, with 28,500 Jews ascending in the last Jewish calendar year. As this occurs, we have seen various strange phenomena on the Temple Mount – perhaps signaling the prophesied shift that will occur in Jerusalem pre-Messiah – such as an eerie mist, sinkholes and snakes."
Temple Mount & Western Wall News Articles
Disclaimer: The following articles are from various news sources. The views expressed often do not represent those of this ministry.
Mar 14, 2021
Prominent Rabbis Ask Netanyahu to Allow the Passover Sacrifice on Temple Mount
Mar 14,2021
Thanks to Jordan, Jews can't pray on the Temple Mount- analysis
Mar 11, 2021
Abraham Accords: Flight #777 Closer Than Ever As Muslim Across Middle East Warming to the Idea of a Third Jewish Temple in Jerusalem
Mar 10, 2021
Saudis Refute Claim that Temple Mount Holy to Islam: Is it a Prophecy from the Zohar?
Feb 9, 2021
Fear of the Covid Vaccine could Keep Muslims off Temple Mount
Feb 4, 2021
Elections: Polls show Pro-3rd Temple Politicians becoming Lawmakers
Feb 1, 2021
Rare: Rainbow over Temple Mount, A 'Reminder of God's Covenant'
Jan 18, 2021
Israel to name Train stop at Temple Mount after Trump
Jan 11, 2021
New School in Judean Hills Trains Priests for Third Temple
Dec 29, 2020
Another Israeli Lawmaker Enters Temple Mount, calls to Build 3rd Temple
Dec 14, 2020
UAE, Bahrain delegations take part in Western Wall Hanukkah lighting ceremony
Nov 12, 2020
Jerusalem: Growing Terror Cell Seeks To Challenge Jordan's Control Of Temple Mount
Nov 6, 2020
138 Members Of The United Nations Vote To Approve Resolution Calling The Temple Mount In Jerusalem Only By Its Muslim Name Of Haram Al-sharif
Nov 3, 2020
Defying Police Orders, Jew Prays for Trump Victory on Temple Mount [Watch]
Oct 25, 2020
Trump says Saudi Arabia next in line for Peace with Israel leading to Potential End-of-Days Temple Mt Showdown?
Oct 11, 2020
Head Imam of Temple Mt Panics as Muslims Begin to Acknowledge Temple's Existence
Sep 28, 2020
All eyes might be on the Temple Mount after the UAE-Israel deal
Sep 2, 2020
Trump's Abraham Accords brings True sons of Ishmael to Temple Mt as Prophesied in Zohar
Sep 1, 2020
Waqf Fills in Newly Discovered Temple Mount Tunnel With Concrete
Aug 28, 2020
Trump's Mid-East Peace Efforts 'Akin to King Solomon Before Temple Construction' says Rabbi Glick
Aug 24, 2020
Sanhedrin Petitions to Govt to Blow Shofar on Temple Mount for First Time Since Temple Destruction
June 30, 2020
Jerusalem School Trains Priests to Perform Temple Rituals in Anticipation of 3rd Temple
May 14, 2020
Netanyahu Refuses to Divulge Secret Agreement with Jordan over Temple Mount
May 7, 2020
High Court Orders Netanyahu to Reveal if he Made a Secret Deal with Jordan over Temple Mount
Apr 7, 2020
Islamic Waqf Takes Advantage of Temple Mount Closure to Conduct Digs
Mar 14, 2020
Rabbi Warns Vatican: Return Temple Vessels or Corona-Virus in Rome Worsens
Mar 13, 2020
Rabbinic Closure of Western Wall Diverts Record Number of Jews to Temple Mount for Special Prayer For Coronavirus Cure
Jews to "avoid visiting the Western Wall and holding mass prayers there."
Mar 9, 2020
'Netanyahu Losing Elections Because he Denied Jewish Prayer on Temple Mount' says Rabbi
Mar 5, 2020
Coronavirus: Waqf Ignores Israel's Call to Limit Muslim Worshippers on Temple Mount
Feb 27, 2020
Thanks to Trump: Pascal Lamb could be Sacrificed on Temple Mount for first Time in 2,000 Years
Feb 23, 2020
'CoronaVirus Won't go Away Until Third Temple Built' Rabbi says
Feb 20, 2020
Christian U.S Congressmen Calls for Change in Temple Mount Status So Jews Can Pray There Freely
Feb 20,2020
'Slow Walking' Protest on Temple Mount in Solidarity with Rabbi Glick
Feb 20, 2020
Israel to Build High-Speed Train from Airport Directly to Footsteps of Temple Mount
Feb 17, 2020

From Atop Temple Mount: Hamas Calls on Muslims Worldwide to Assassinate Trump
Hamas members hung a poster in front of the Dome of the Rock showing a Hamas terrorist armed with a Kalashnikov rifle pointed at images of President Trump, Egyptian President Abdel el-Sisi, and Saudi Prince Mohammad Bib Salman.
Feb 17, 2020
From Atop Temple Mount: Hamas Calls on Muslims Worldwide to Assassinate Trump [Watch]
Feb 13, 2020
Israel's Defense Minister: We are Now in Era of Third Temple
Feb 11, 2020
Sanhedrin Gets Authorization To Use Their Trees For Third Temple
Feb 8, 2020
[Watch] Miracle at Temple Mount: Israeli Policeman Grazed by Bullet Inches From Heart
Jan 29, 2020
Trump envoy: We won't impose change to status quo to let Jews pray at Temple Mt.
Jan 29, 2020
Palestinian "Expert": "Israel is Building the Third Temple Under the Aqsa Mosque"
"The PA regularly claims that Israel excavates under the Temple Mount, thereby endangering the Al-Aqsa Mosque," PMW stated.
Jan 28, 2020
Messiah's Gate of Mercy Being Used as Sanctuary for Terrorists
Jan 24, 2020
Pence, Netanyahu Visit Western Wall, Then Discuss Invite to White House for Peace Plan
Jan 18, 2020
Jerusalem police break up Muslim riot on Temple Mount
Jan 15, 2020
Hamas Calls for Mass Prayer Rallies at Temple Mount, Cave of the Patriarchs
Jan 13, 2020
Supreme Court Allows Muslims to Build Mosque on Temple Mount
Jan 8, 2020
Rabbi Glick Interrupts Netanyahu's Speech to Remind him to Build Third Temple
Jan 7, 2020

Understanding the Temple Mount – Status Quo
Dec 29, 2019
Nation of Ishmael Lights Menorah with 70 Nations on Mount Zion
Dec 28, 2019
Jordan: Temple Mount is Place of Worship for Muslims Only
Dec 15, 2019
Recently Revealed Jewish Prayer on Temple Mount: First Stage in Third Temple Construction
Dec 15, 2019
Jewish prayer has returned to the Temple Mount
Dec 10, 2019

On Temple Mount, a Muslim "Holy Site": Waqf Guard Calls Rabbi "Son of 1,000 Whores" [Watch]
Dec , 2019
Watch: Muslim Waqf Chips Away at Temple Mount Increasing Pressure on Retaining Walls
Dec 2, 2019
The apartheid on the Temple Mount that should make the front page news
Nov 26, 2019
Digging in Spot where Temple Vessels Last Seen has Just been Authorized
Oct 24, 2019
Ben Shapiro Calls for Building House of Worship on Temple Mount
Oct 24, 2019

A First Since the Temple: Levites Sing Psalms at Footsteps of Temple Mount [Watch]
Oct 11, 2019
Muslims Discover Secret Room on Temple Mount Where Jews Have Been Praying for 48 Years
Oct 10, 2019

Watch: Israeli Police Raid Mosque Built at Gate of Mercy on Temple Mount
Sep 15, 2019
Anti-Gay Party Quits Election: Good News for Pro-Third Temple Party
Sep 8, 2019
Elections: Pro-3rd Temple Party Gets Decisive Boost in Polls
Sep 5, 2019
A First: Chief Rabbinate Looking into Biblical Justification for Jews to Pray on Temple Mount
Aug 24, 2019
Israel Suffering Grim Wave of Violence While Hamas Call for More to Commemorate Christian Attack on Temple Mount
Aug 14, 2019
Israel said bracing for likely Omar, Tlaib visit to flashpoint Temple Mount
Aug 11, 2019
LIVE BLOG UPDATE Muslim Rioting on The Temple Mount on the Day Jews Mourn its Destruction
Aug 10, 2019
Jews and Muslims to Face Off at Temple Mount on Sunday
Aug 9, 2019
Palestinian Authority: Israel trying to build the Temple
June 4, 2019
The Battle for the Temple Mount That Took Place This Jerusalem Day
June 2, 2019
Muslims Riot on Temple Mount During Jerusalem Day
May 21, 2019
Israeli Minister Performs Kohanic Blessing on Temple Mount [WATCH]
May 20, 2019
The "Cultural Intifada" Israel is Losing on the Temple Mount
May 14, 2019
Are the Palestinians Planning Another Round of Temple Mount Violence?
May 7, 2019
Somber Memorial Day events begin with siren and ceremony at Western Wall
Apr 5, 2019
Israeli Candidate Calls to Build Temple Now
Apr 3, 2019
With its ancient stones corroding, Western Wall gets preservation treatment
Mar 25, 2019
Will Israeli Elections Bring Back the Real Passover Sacrifice?
Mar 24, 2019
Jerusalem teens indicted for firebombing police on Temple Mount
Mar 23, 2019
Court orders closure of Gate of Mercy Mosque
Mar 23, 2019
Fundamentally Freund: Take back the Temple Mount
Mar 22, 2019
Thanks to Trump, diplomatic taboo around Western Wall comes tumbling down | The Times of Israel
Mar 18, 2019
BIN Video Report From Temple Mount: Arab Riots and Thanksgiving Offering
Mar 17, 2019
PA: Israel has no authority on Temple Mount
Mar 16, 2019
Palestinians rip doors off disputed building on Temple Mount