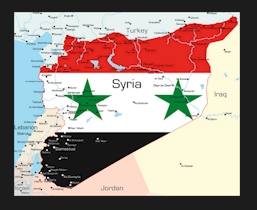 Syria
Israel's Enemy to the North
Will President Assad be the last Syrian leader, as we know it? He continues to have Iranian and Russian military support, with China's backing. The US has a military presence in the north of Syria, while Russia and Iranian assignments are in the south; meanwhile, in January 2018, Turkey crossed the boarder into Syria to confront the Kurds.
In close proximity, the state of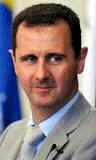 Israel is surrounded with her northern enemies, with growing threats against her national survival, which is prophetic. The close alignment of Israel with US and Western allies against Russia, Iran and Eastern powers, make the current situation all the more foreboding, with a major crisis inevitable as the last days approach. This mixture of bad blood will lead to an all-out Middle East war, when Jerusalem, Israel and the Middle East is shaken to the core, and the global crisis begins.
In January 2018, Israel's ambassador to the United Nations, Danny Danon, told a UN Security Council meeting that he was revealing classified information about Iran to convey what he claimed are Iran's plans to dominate Syria, destroy Israel and "terrorize the entire free world."

"Iran is turning the entire country of Syria into the largest military base in the world. In fact, Iran is trying to destabilize all aspects of Syria," Danon said.
He continued, "Iran's goals are, first, destroy Israel ... second ... destabilize the region." But after that, Danon said, "it is aiming for the entire world. The entire international community should be concerned about Iran." Even though Iran is targeting Israel first, the Israeli envoy said, "it is you who are next."
The first half of Daniel 8 predicts a confrontation between Iran (Elam/ the Ram) and the West (Goat) with America--the Prominent Horn. This war initiates the time of the end; however, after President Trump's success, America's demise is foretold when the US Horn is broken off (vs. 8) in a quick, but decisive global war.
Middle East war that will escalate into World War III is inevitable, as final events loom on the horizon. And, at the end of time, Damascus will no longer remain a inhabitable city, but will become a pile of ruins. Evidently, the missiles flying into Israel from the north will be so massively devastating or threatening as to activate a doomsday response to stop them. Isaiah 17:1 prophesies, "See, Damascus will no longer be a city but will become a heap of ruins." Such tragedy and loss of human lives cannot be fathomed or understood before it all comes down. The devastation is beyond our ability to imagine.
Russia builds four new air bases in Syria, deploys another 6,000 troops
Nov 16, 2015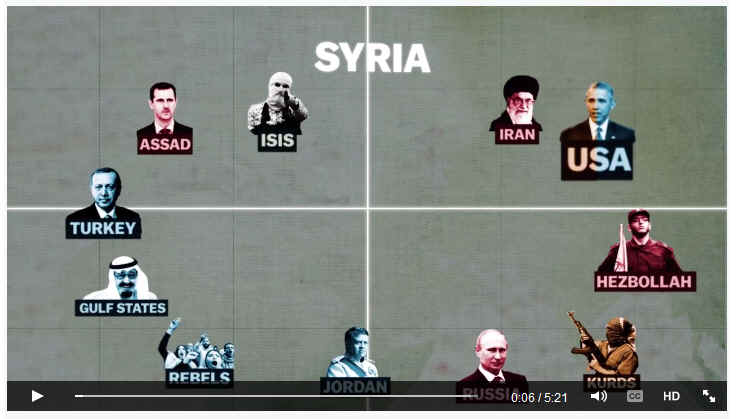 August 29, 2013

Current Syrian News Updates
DISCLAIMER: The articles below are from various new sources. The views expressed often DO NOT
represent the views of this ministry.
Mar 23, 2021
Turkey and Russia increase strikes in Syria
Feb 25, 2021
Report: US attacks Iranian-backed militia in Syria
Officials say President Joe Biden approved air strike in Syria against structure belonging to Iranian-backed militia.
Feb 8, 2021
Russia's military police in Syria train to repel attacks
Jan 30, 2021
Syrian Troops Spotted Amassing near Israel's Mt Hermon border
Jan 22, 2021
Al Arabiya: Israel, Syria officials discuss removal of Iran and its militias from Syria: Report
Jan 7, 2021
For the third time in 10 days, Israel attacks pro-Iranian targets in Syria
Dec 29, 2020
Syrian media reports Israeli airstrikes near Damascus
Sep 26, 2020
US is beefing up forces in eastern Syria to counter Russian harassment
Mar 7, 2020
Syria Conflict Is Shifting From a Proxy War to a Clash of Superpowers
Mar 2, 2020
Turkey Retaliates: Downs Two Syrian Fighter Jets as Tensions rise in Syria
Feb 17, 2020
Satellite images show major damage at Damascus airport following airstrikes
Feb 16, 2020
If Russia can't curb Iran in Syria, the Saudis ask: How can Israel?
Feb 8, 2020
Death toll in alleged Israeli strikes near Damascus up to 23 fighters
Jan 22, 2020
Standoff: U.S. troops block Russian forces from capturing Syrian oil field
Jan 14, 2020
Syria says Israeli aircraft strike air base thought used by Iranian forces
Dec 26, 2020
8 said killed in airstrike on pro-Iranian militia in eastern Syria
Dec 26, 2019
Russia takes over N. Syrian base abandoned by US
Dec 21, 2019
New Iranian drone base destroyed near Abu Kamal. First Saudi unit lands at Syrian oil field
Dec 10, 2019
Iran shuts south Syrian command center opposite Golan, consolidates Abu Kamal hub
Dec 9, 2019
Russian Su-35 jets scrambled to stop Israel over Syria – reports – Jerusalem Post
Dec 5, 2019
Explosion strikes Iranian weapons depot in Syria – report – Jerusalem Post
Nov 6, 2019
US races Russia for military positions in NE Syria, including new air bases
Oct 20, 2019
Interview: Christian Leader Cries Out for Help From Northern Syria
Oct 16, 2019
Despite Erdogan's bravado, his Syrian offensive is squeezed in a US-Russian hug
Oct 16, 2019
Pence, Pompeo to lead delegation to Turkey amid Syria incursion
Oct 15, 2019
Russian forces sweep into U.S. base abandoned in Syria
Oct 13, 2019
Syrian army moving to face 'Turkish aggression' in country's north
Oct 10, 2019
Over 60,000 displaced in Turkish assault on Syria — monitor
Oct 9, 2019
'Huge panic' as Turkish warplanes bomb Kurdish civilian targets in Syria after US withdrawal: report
Oct 9, 2019
Turkey launches troop offensive in northeastern Syria
Oct 8,2019
Trump ally: US pullout from Syria will put Israel at risk | The Times of Israel
Oct 7, 2019
'Time to get out of these ridiculous endless wars': Trump orders US pullback from Syrian border before Turkish operation begins
Oct 7, 2019
Iran is smuggling artillery precision parts to Hizballah by Syrian IL-76s through a Syrian air base
Apr 29, 2019
Iranians evacuate after unidentified aircraft seen in east Syria
Mar 29, 2019
Syria: IDF Hit Iranian Military Targets Near Aleppo