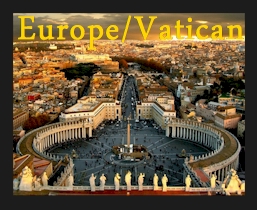 Europe/Vatican
The Power of Popes & the Three Religions of Jerusalem
In late 2015 to early 2016, within a period of just 120 days, Pope Francis visited the "Christian" White House, an "Islamic" mosque, and a "Jewish" Temple. Why? To united the Three Religions of Jerusalem and all the world together in inter-faith dialogue and brotherhood. As a forerunner, he is setting the global stage for the Man of Sin--Antichrist to emerge onto the world scene.
Pope Francis Visited the Protestant "Christian" White House
It is significant that during the High Holy Days in September of last year, America's leadership invited Pope Francis into the White House at the Biblical Festival of Yom Kippur, with a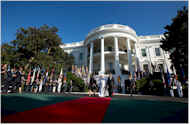 throng of devotees who adored and worshiped him, to build his quest for brotherhood among the nations and religions of the world.
There's no doubt that since it's inception America long stood as a "Protestant" beacon of light to the nations, separating from the power of Rome's influence. Believers from the U.S. spread the gospel of Jesus Christ to the nations through missionary work, and was founded on Judeo-Christian principles. As the Catholic/Protestant ecumenical movement gained momentum, that trend reversed and there is a growing acceptance of Papal authority.
In another significant move to mend "Christian" brotherhood ties, the Roman Catholic Pope Francis will meet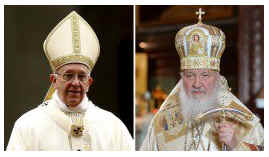 with his counterpart--the head of the Russian Orthodox Church, Patriarch Kirill, during a historic visit to Latin America. The groundbreaking meeting is to happen in mid-February 2015 in Cuba. The meeting between heads the two major Christian churches would be an unprecedented move to mend the millennium-long rift between the Western and Eastern branches of the religion, which started with the Great Schism of 1054. There is no doubt in light of our nearness to final events that the goal of restoring unity will be met.
Pope Francis Visited an " Islamic" Mosque in Africa
Speaking first in an inter-religious meeting with some 200 Muslims at a Bangui's central mosque, located in an area of the city known for frequent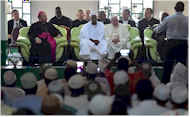 violent inter-religious clashes, Francis exhorted: "Christians and Muslims are brothers and sisters!"
"We must therefore consider ourselves and conduct ourselves as such!" he told the Muslim men at the meeting, sitting cross-legged before him. "Those who claim to believe in God must also be men and women of peace!"
"Together, we must say no to hatred, to revenge and to violence, particularly that violence which is perpetrated in the name of a religion or of God himself -- God is peace, salam," he said, using the Arabic word for peace.
Related Article: Shia and Sunni are unanimous in acknowledging Lady Fatima's virtues: Ayatollah Khamenei
Pope Francis
Visited a "Jewish" Synagogue in Rome
Amid chanting of psalms in Hebrew and speeches underscoring the remarkable advances in Catholic-Jewish relations in the past 50 years, Francis became the third pontiff to visit Rome's Great Synagogue, after popes John Paul and Benedict.
The Temple is just across the Tiber River from the Vatican, and is rich with symbolism of the past persecution of Jews, who for nearly 300 years until the mid-19th century were forced to live in the adjoining quarter still known as The Ghetto and make compulsory payments to the popes.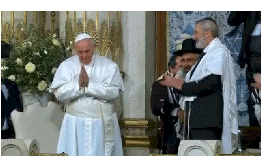 The Pope said, "The violence of man against man is in contradiction with any religion worthy of this name, in particular the three great monotheistic religions (Judaism, Christianity and Islam)," he said in what appeared to be a reference to attacks by Islamist militants."
Yahya Pallavicini, an Italian Islamic leader involved in inter-faith dialogue, also attended the ceremony and the pope warmly greeted him.
Francis has called for the "rediscovery of the Jewish roots of Christianity" and repeated an appeal for Catholics to "say 'no' to every form of anti-Semitism".
"Jews and Christians must, therefore, feel like brothers united by the same God and by a rich common spiritual heritage," he said.
"The violence of man against man is in contradiction with any religion worthy of this name, in particular the three great monotheistic religions (Judaism, Christianity and Islam)," he said in what appeared to be a reference to attacks by Islamist militants.
The Outcome
It's not surprising that part of the work of God is the downfall of nations who once cherished Scriptural values, but have turned their back on Almighty God. His Word offers plenty of examples of how He dealt with people, individuals and groups according to how they honor, or refuse to honor, Him. The examples include the worldwide flood, Sodom and Gomorrah fire, Israel's enemies defeated in battle, Egypt's plagues, and even the beloved Jerusalem, when His chosen people refused the counsel of God's prophets (586 B.C.) and Messiah Himself (70 A.D.). Likewise, in this regard, God's protection is being withdrawn from America, which prophetically sits at the verge of destruction and a disastrous fall from favored status. The countenance of God's mercy no longer shines brightly upon the U.S., because we have turned our back on Him.
In our Insights in Prophecy Lesson Series, the case has been built for the supernatural rise of Antichrist from within Catholicism, specifically from the Vatican power-base. We've learned one of the last acts of the end-time Antichrist/Pope is that he will be welcomed by Jerusalem's political leaders, and the religious leaders of her three religions (Judaism, Islam and Christianity), into the center of the capital of Jerusalem and onto the rebuilt Temple Mount (turmoil over the Temple Mount has seen an explosion of articles in late 2015--click here) to set up his abomination, bringing worship to himself (The Kingdom Calendar, Pt. 17); this, in turn, will signal the splitting into three parts the city of Jerusalem--Babylon the Great (Revelation 16:19).
How End-time Events Will Begin & End
The New World Order will emerge from a quick but devastating World War III. With nuclear holocaust and the unimaginable human carnage there will be global financial collapse, natural disasters, poisoned air and pandemics. Supernatural signs and wonders (e.g. Marian sightings) will escalate, and religious unity based on Vatican/Catholic "Sunday-promoting" governance centered in the Europe Union (Lisbon Treaty), promoting the "common good" of all nations under Papal and European NATO rule will gain strength under the leadership of the Man of Sin. This will ultimately lead to a global marking system for buying and selling, and 10 divisions of the world (10 Kings) foretold in Revelation 17:12-14.
There is a Catholic teaching that before the great climax of human history

righteous Popes will turn many to Christianity, followed by an evil Pope or Antichrist who would emerge to fulfill the apocalyptic predictions of Revelation.
The Bible reveals that this Evil One will rule the world; that he would at first "come in [Christ's] name" (Matthew 24:5), but will deny Messiah in word and action. Near the end of his days he will enter onto the rebuilt Temple Mount in Jerusalem (2 Thessalonians 2:3-4) and declare himself God. His abomination will be complete, and God's patience exhausted. His miraculous rise was foretold by Yeshua and the Hebrew prophets in the Word of God.
John Paul, the most popular pope of modern times, whose 27 year Papal reign from October 1978 to April 2005, did much to raise the role of the Papacy and Marian worship across the globe during to his many pastoral travels. John Paul's own Marian devotion is explained in the book The Keys Of This Blood, published in1990 by the former Dr. Malachi Martin--theologian, Jesuit and professor at the Vatican's Pontificate Biblical Institute and devote Catholic. He wrote that John Paul "turned more and more intently to prayer. Prayer, especially, to Mary as the geopolitical hope ... of the world. Because, he was now sure, Mary had saved him from int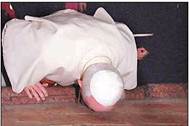 ended death in St. Peter's Square that May 13 [1981]--the official feast day of Mary as Our Lady of Fatima ," (page 626). He believed that Mary had called him to a great mission.
John Paul II himself wrote, "Could I forget that the event [Ali Ağca's assassination attempt] in St. Peter's Square took place on the day and at the hour when the first appearance of the Mother of Christ to the poor little peasants has been remembered for over sixty years at Fátima, Portugal? For in everything that happened to me on that very day, I felt that extraordinary motherly protection and care, which turned out to be stronger than the deadly bullet." —Pope John Paul II -Memory & Identity, Weidenfeld & Nicolson, 2005, p.184
John Paul believed he was to be the last moral leader to rule the nations; however, another will arise to this position of power--an evil ruler with demonic powers and Jewish roots, of whom Jean-Marie Lustiger serves as a exemplar of him whose cryptic rise from the ashes of fiery destruction leads to global power and the final days.
Jean Marie Lustiger
Who is the Jew who almost became Pope? This film, available on Netflix, is a must watch film about a Cardinal from the past, who signals a future leader who was, and is to come. The story of Jean-Marie Lustiger.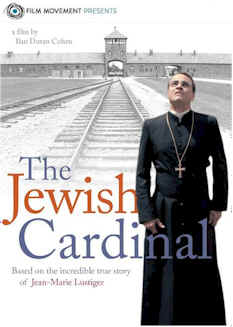 1. Papal Rome and the European Union
2. Articles on Roman Catholic teachings
3. Forbes ranks Pope Francis as 4th most powerful person in the world.
Nov 3, 2013 Editor's Note: This article is a modern-day reflection of the ancient prophecies of Daniel 7, and what we've written about for nearly 30 years. Forbes Magazine recently wrote the following: Pope Francis (Vatican-Daniel 7:8) is ranked 'the 4th most powerful' person in the world after Presidents Putin (Russia-Daniel 7:5), Obama (USA-Daniel 7:4), and Xi Jinping (China-Daniel 7:6), by Forbes, the prestigious US business magazine.
Current Europe-Vatican News Update
DISCLAIMER: The articles below are from various new sources. The views expressed often DO NOT represent those of this ministry.
Dec 28, 2020
NATO says 90 percent of air intercepts in 2020 involved Russian planes
Dec 26, 2020
Johnson's coup: A UK Brexit deal with Europe – at a price
Nov 29, 2020
EU condemns killing of Iranian nuclear scientist as 'criminal act'
Nov 23, 2020
Pope Francis Presses Young Catholics For A New Economy
Nov 7, 2020
A massive 7.0 earthquake in the Aegean Sea topples buildings and floods streets in Turkey and Greece
Nov 3, 2020
Islamic State claims responsibility for Vienna terror attack
Oct 30, 2020
Powerful earthquake jolts Turkey and Greece, killing at least 26
Oct 26, 2020
Pope Francis: 'Instances of a Myopic, Extremist, Resentful and Aggressive Nationalism Are on the Rise'
Oct 24, 2020
Pope Bendict XVI: St. Paul 'Lists Those Who Behave in Homosexual Fashion Among Those Who Shall Not Enter the Kingdom of God'
Oct 23, 2020
2020: Pope Francis calls for civil union law for same-sex couples, in shift from Vatican stance
Oct 22, 2020
Oct 16, 2020
After Welcoming The Idol Pachamama, Pope Francis Has Vatican City State Mint Issue Coin Celebrating Gaia Earth Mother Goddess Of Paganism
Oct 7, 2020
NATO Chief: Turkey's Russian-made S-400 Missiles Pose Risks to Allied Aircraft
Oct 5, 2020
Pope: Market capitalism has failed in pandemic, needs reform
Oct 5, 2020
Revelation 18: Pope Francis Demands That Supranational Bodies Like the United Nations Be Given More Authority to Control the World
Sep 30, 2020
Israeli PM Netanyahu Addresses 75th Session of the UNGA
Sep 28, 2020
Merkel 'Deeply Concerned' By Rapid Jump In Coronavirus Infections
Sep 19, 2020
Pope Francis: Nature Has a 'Mystical Capacity' to Bring People to God
Aug 31, 2020
The Pope's Top Climate Change Advisor Does Not Believe In God - But He Does Appear To Believe In 'Gaia'
July 19, 2020
Angela Merkel desperately begging EU leaders to compromise as bloc on brink of COLLAPSE
July 15, 2020
Coronavirus infects Vatican as First Case Reported
June 30, 2020
Europe restricts visitors from the US amid virus resurgence
May 14, 2020
Pope Francis Calls on All Religions to Join in Prayer for Liberation from Coronavirus
Apr 23, 2020
Despite Lockdown: France Rocked by Four Straight Nights of Riots
Apr 6, 2020
Coronavirus: Italy's Death Toll Exceeds 16,000
Apr 6, 2020
UK Prime Minister Boris Johnson in intensive care after coronavirus symptoms worsen
Mar 15, 2020
British Airways is to ground flights 'like never before' and lay off staff in response to the coronavirus.
Mar 11, 2020
Coronavirus: Up to 70% of Germany could become infected - Merkel
Mar 9, 2020
Coronavirus panic: Six dead in prison riots as Italy on brink of public order breakdown
Mar 9, 2020
PICTURES: Greek Border in Flames as Migrants Keep Trying to Break Through
Mar 9, 2020
Turkey on Migrant Wave: European Govts Will Fall, Stock Markets Will Collapse
Mar 9, 2020
Italy quarantines 16 million as US Army halts military and family travel to/from Italy and South Korea
Mar 8, 2020
Vatican Museums Closed, Pope Suspends Gatherings over Coronavirus Threat
Mar 6, 2020
El Al cancels flights to San Francisco, Europe amid 'unprecedented' virus crisis
Mar 2, 2020
Archbishop Jan Lenga: Pope Francis is 'Usurper and Heretic,' 'Leading the World Astray'
Feb 21, 2020
China Dicating to Pope Appointment of Bishops in "Secret Deal" With Vatican
Feb 13, 2020
Progressives Irate over Pope Francis Letter Confirm Conservatives' Fears
Feb 11, 2020
Pope Pushes One World Religion on Israel's Independence Day
Feb 6, 2020
Pope Francis, Wayward Shepherd
Jan 31, 2020
'This Is the Dawn of a New Era': The United Kingdom Has Left the European Union
Jan 31, 2020
SO BONG, FAREWELL! Boris Johnson to declare 'dawn of a new era' for Britain as we leave the EU at 11pm tonight
Jan 21, 2020
8 countries back European-led naval mission to guard Strait of Hormuz
Belgium, Denmark, France, Germany, Greece, Italy, the Netherlands, and Portugal backed the new force, they said in a "political statement" issued by France's Foreign Ministry on January 20.
Jan 21, 2020
Pope Francis Condemns 'Isolationism, Individualism' in Davos Message
Jan 18, 2020
Isolated Iran leader lashes out at Europe as nations join US in ramping up pressure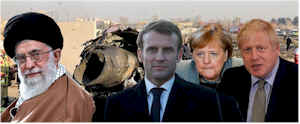 Jan 15, 2020
Iran's secret underground 'missile city' unveiled
Former deputy director-general for safeguards at the International Atomic Agency said last week that from the end of January, Iran will have approximately two months to break out to a nuclear bomb — a far shorter estimate than the one set by Israeli intelligence.
Jan 15, 2020
How could Iran break out to a nuke in only 2 months? – analysis
Jan 15, 2020
Israel Warns Iran is Closer to Nuclear Bomb
Israel's army intelligence says Iran will have enough enriched uranium to produce one nuclear bomb by the end of 2020.
Jan 15, 2020
Iran Warning Puts Thousands Of European Troops In Spotlight | Associated Press
Jan 14, 2020
Iran warns of 'strong response' if Europe reimposes nuclear sanctions | The Times of Israel
Jan 14, 2020
France, Britain, Germany trigger Iran nuclear deal dispute mechanism
Jan 14, 2020
UK's Johnson calls for 'Trump deal' to replace Iran nuclear agreement | The Times of Israel
Jan 5, 2020
Britain Backs Trump on Iran, Deploys Royal Navy to Persian Gulf
Jan 1, 2020
Upside Down: Pope Francis Discourages Evangelism, Kanye West Preaching Gospel