Natural Disasters, Pandemics, Global Changes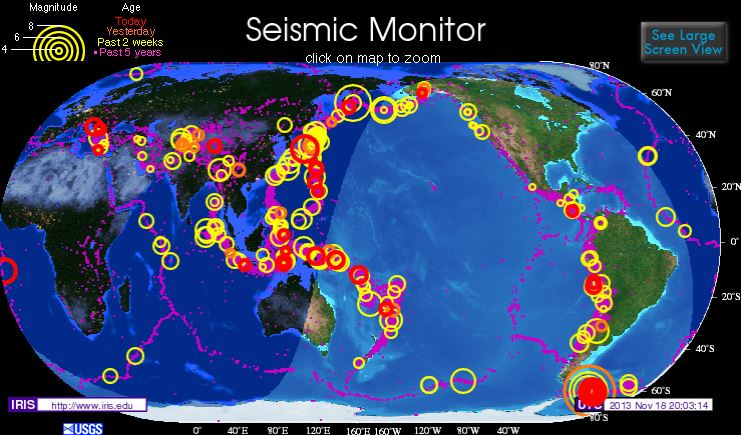 Earthquake Survival: Where to Go, What to Do
Paul said, "For we know that the whole creation groans and labors with birth pangs together until now," (Romans 8:22). Earth's powerful natural forces and disasters will convulse, causing painful troubles for mankind. Creation itself will travail as the time of delivery draws near.
Crimes, viruses, earthquakes, volcanoes, famine, floods, tornados, winds, storms, hurricanes, tsunamis and un-natural disasters are on the increase. The threats are all around us, and can sweep away homes, lives and loved-ones in seconds.
During the last days, called the "appointed times" in the Scriptures, global pandemics and catastrophes will increase in strength and numbers. They are already on the rise, but when the counting days begin we will not recognize the world we live in anymore. Everything will be shaken to its foundations, both in the world and in our churches and synagogues. The core issue of most all disasters is life-sustaining food and fresh water supplies, both of which will be progressively scarce as the last days unfold. This will turn humans into devouring animals, with a "survival of the fittest" mindset and packs of dangerous gangs.
Jesus declared: "There shall be signs in the sun, and in the moon, and in the stars; and upon the earth distress of nations" (Luke 21:25; Matthew 24:29; Mark 13:24-26; Revelation 6:12-17). Those who testify of these harbingers prior to His coming can "know that it is near, even at the doors" (Matthew 24:33).
The nations are in unrest. Times of migration and perplexity are gaining momentum. Hearts are concerned for fear of the things that are coming upon the earth. But those who believe in God will hear His voice amid the storm, saying, "Peace, be still."
In the days of Noah the overwhelming majority was opposed to the warnings and the reality of a final end of their lives, but devastation bore down on them nonetheless.
During the last days the land will be filled with violence. War, crime and murder will be the order of the day. The masses will be stirred to violence when their demands are not complied with, or their needs met. The perversity and cruelty of mankind will reach a crescendo, at which point Messiah will reveal Himself in His majesty. And, when the wickedness of the world reaches its limit, like in the days of Noah, God will pour out His Revelation judgments.
The terrible reports we constantly hear of pandemics, natural disasters, murders, debauchery and deeds of violence, tell the story that the end of all things is near. More than ever, we need to be preparing for the Lord's second coming with repentant hearts and an attitude of prayer.
Before the Son of Man appears in the clouds of heaven everything in nature will be convulsed. Lightning from heaven will unite with the fire in the earth, and the mountains to burn with volcanic eruptions and pour out their floods of lava over villages and cities. There will be mighty earthquakes and unimaginable destruction of human life. We have been warned by the Hebrew prophets.
The Word declares...
"Let there be lights in the vault of the sky to separate the day from the night, and let them serve as signs to mark sacred times, and days and years, and let them be lights in the vault of the sky to give light on the earth," Genesis 1:14-15.
"And great earthquakes shall be in divers places, and famines, and pestilences; and fearful sights and great signs shall there be from heaven," Luke 21:11.
"And there shall be signs in the sun, and in the moon, and in the stars; and upon the earth distress of nations, with perplexity; the sea and the waves roaring," Luke 21:25.
"Men's hearts failing them for fear, and for looking after those things which are coming on the earth: for the powers of heaven shall be shaken," Luke 21:26.
"For we know that the whole creation groaneth and travaileth in pain together until now," Romans 8:22.
"And you will hear of wars and rumors of wars. See that you are not troubled; for all these things must come to pass, but the end is not yet. For nation will rise against nation, and kingdom against kingdom. And there will be famines, pestilences, and earthquakes in various places. All these are the beginning of sorrows," Matthew 24:6-8.
God is our refuge and help in times of trouble.
Current Pandemics, Natural Disaster, Etc. News Updates
DISCLAIMER: The articles below are from various new sources. The views expressed often DO NOT represent those of this ministry.
Mar 23, 2021
7 Plagues That Are Hitting Our Planet Right Now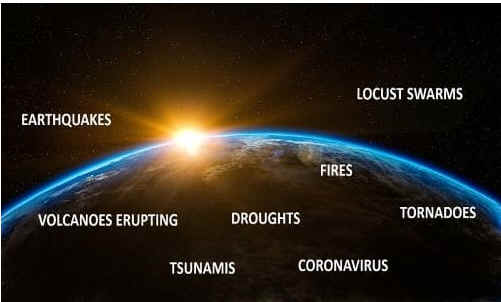 Mar 23, 2021
Pentagon's Report Will Contain More Information on UFOs Than Previously Made Public: Ratcliffe
Mar 16, 2021
Top vaccine scientist warns the world: HALT all covid-19 vaccinations immediately, or "uncontrollable monster" will be unleashed
Mar 8, 2021
If You Need To Move Somewhere Before Everything Hits The Fan, You Need To Do It Now
Mar 7, 2021

Planet earth is being shaken greatly in this hour
Mar 7, 2021
2021 on Track to Become Record-Breaking year of Major Earthquakes, Volcanoes
Mar 5, 2021
Can You Not See That The Crust Of Our Planet Is Becoming Increasingly Unstable?
Feb 26, 2021
Dramatic Fish And Insect Population Drop Could Bring Global Famine
Feb 24, 2021
A New Highly Resistant COVID Variant Has Emerged In California, And It Could Make This Plague Far Worse
Feb 24, 2021
The "Everything Collapse" Continues: One-Third Of All Freshwater Fish Are Facing Extinction
Feb 22, 2021

Very Strange Events Are Happening All Over The Globe
Feb 22, 2021
A "Biblical" Invasion Of Locusts Threatens To Cause Widespread Famine In The Horn Of Africa
Feb 21, 2021
Brain-swelling Nipah virus 75 times more deadly than coronavirus may be next pandemic, scientists warn of 'The Big One'
Feb 17, 2021
Accuweather: Winter storm leaves areas across Texas unrecognizable; coldest in Oklahoma City since 1899
Feb 16, 2021
Ebola outbreak: WHO puts six countries on urgent alert as deaths spread
Feb 16, 2021
Will The New Ebola Epidemic In Africa Soon Become The Next Global Pandemic?
Feb 15, 2021
Blackouts ordered, then rescinded across grid that includes Oklahoma as power demand exceeds supply
Feb 15, 2021
'STUNNING ADMISSION' Pentagon admits it has been testing wreckage from UFO crashes & findings may 'change our lives forever,' expert says
Feb 12, 2021
Major Kabalistic Leader Predicts Star of Jacob as Early as Adar (Feb 12-March 13)
Feb 11, 2021
Beyond Covid: New Pestilences Are Breaking Out All Over The Globe
Feb 9, 2021
Why Are Volcanoes All Along The "Ring Of Fire" Suddenly Starting To Pop Off Like Firecrackers?
Feb 8, 2021
Dangerous New Pestilences Are Breaking Out All Over The Globe
Feb 6, 2021
Living Off Grid As The Collapse Of Society Approaches: "Why Aren't More People Doing This?"
Feb 4, 2021
Lockdown states suffer more COVID deaths on average
Jan 30, 2021
New Analysis: '100% Probability' CCP coronavirus came from a Lab – Dr. Quay: MD, Phd, FCAP
Jan 27, 2021
Plague of Locusts Hits Saudi Arabia, Yemen, Right after Israel recites passage in Bible
Jan 4, 2021
'Apocalyptic' Volcano Alert in Caribbean: 100,000 residents warned of Emergency Evacuation
Dec 29, 2020
Major earthquake, killing hundreds, likely to hit Israel in coming years – study
Dec 29, 2020
Death Toll Climbs From Croatia's Worst Earthquake in 140 ...
Dec 27, 2020
Super-infectious mutant strain of coronavirus that was found in Kent is 'more likely to affect children', claims study
Dec 21, 2020
End of the world predicted to strike 'in days' as fears grow over 'Christmas Star'
Dec 20, 2020
Rare Galactic 'Star of Jacob' Candidate about to light up Night Sky presaging Messiah
Dec 9, 2020
The sun is awakening with 'solar storms' that could affect Earth
Dec 7, 2020
'2021 going to be catastrophic,' UN warned it faces worst crises in its history
Dec 1, 2020
After This New Wave Of Lockdowns, Most People Will Accept Any "Solution" Because They Will Be So Desperate
Dec 1, 2020
Digital Passports That Confirm Your Vaccination Status Are Coming
Dec 1, 2020
Today is the last day of the record-smashing 2020 Atlantic hurricane season
Nov 21, 2020
This could be something really big – More than 500 people have caught an "unknown disease" in Senegal
Nov 16, 2020
UN World Food Program Warns Of "Famines Of Biblical Proportions In 2021" As Some Americans Wait 12 Hours For Food
Nov 15, 2020
Are Israel and the US planning to attack Iran?
Nov 15, 2020
US State Department threatens actions against Iran on protests anniversary
Nov 7, 2020
A new variant of the coronavirus that is believed to have originated in Spain is spreading across Europe like wildfire
Nov 7, 2020
A massive 7.0 earthquake in the Aegean Sea topples buildings and floods streets in Turkey and Greece
Oct 23, 2020
COVID's Trojan Horse: The Great Reset & The Green New Deal
Oct 6, 2020
California's deadly wildfires just broke all time record for most acres burned in one year, More than 4 million acres scorched