Natural Disasters, Pandemics, Global Changes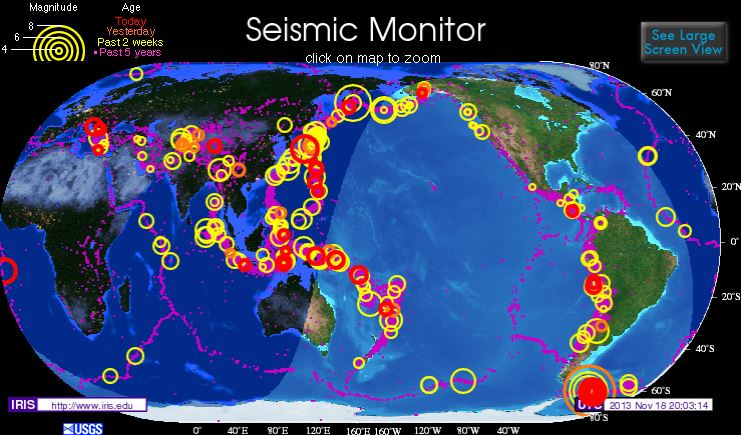 Earthquake Survival: Where to Go, What to Do
Paul said, "For we know that the whole creation groans and labors with birth pangs together until now," (Romans 8:22). Earth's powerful natural forces and disasters will convulse, causing painful troubles for mankind. Creation itself will travail as the time of delivery draws near.
Crimes, viruses, earthquakes, volcanoes, famine, floods, tornados, winds, storms, hurricanes, tsunamis and un-natural disasters are on the increase. The threats are all around us, and can sweep away homes, lives and loved-ones in seconds.
During the last days, called the "appointed times" in the Scriptures, global pandemics and catastrophes will increase in strength and numbers. They are already on the rise, but when the counting days begin we will not recognize the world we live in anymore. Everything will be shaken to its foundations, both in the world and in our churches and synagogues. The core issue of most all disasters is life-sustaining food and fresh water supplies, both of which will be progressively scarce as the last days unfold. This will turn humans into devouring animals, with a "survival of the fittest" mindset and packs of dangerous gangs.
Jesus declared: "There shall be signs in the sun, and in the moon, and in the stars; and upon the earth distress of nations" (Luke 21:25; Matthew 24:29; Mark 13:24-26; Revelation 6:12-17). Those who testify of these harbingers prior to His coming can "know that it is near, even at the doors" (Matthew 24:33).
The nations are in unrest. Times of migration and perplexity are gaining momentum. Hearts are concerned for fear of the things that are coming upon the earth. But those who believe in God will hear His voice amid the storm, saying, "Peace, be still."
In the days of Noah the overwhelming majority was opposed to the warnings and the reality of a final end of their lives, but devastation bore down on them nonetheless.
During the last days the land will be filled with violence. War, crime and murder will be the order of the day. The masses will be stirred to violence when their demands are not complied with, or their needs met. The perversity and cruelty of mankind will reach a crescendo, at which point Messiah will reveal Himself in His majesty. And, when the wickedness of the world reaches its limit, like in the days of Noah, God will pour out His Revelation judgments.
The terrible reports we constantly hear of pandemics, natural disasters, murders, debauchery and deeds of violence, tell the story that the end of all things is near. More than ever, we need to be preparing for the Lord's second coming with repentant hearts and an attitude of prayer.
Before the Son of Man appears in the clouds of heaven everything in nature will be convulsed. Lightning from heaven will unite with the fire in the earth, and the mountains to burn with volcanic eruptions and pour out their floods of lava over villages and cities. There will be mighty earthquakes and unimaginable destruction of human life. We have been warned by the Hebrew prophets.
The Word declares...
"Let there be lights in the vault of the sky to separate the day from the night, and let them serve as signs to mark sacred times, and days and years, and let them be lights in the vault of the sky to give light on the earth," Genesis 1:14-15.
"And great earthquakes shall be in divers places, and famines, and pestilences; and fearful sights and great signs shall there be from heaven," Luke 21:11.
"And there shall be signs in the sun, and in the moon, and in the stars; and upon the earth distress of nations, with perplexity; the sea and the waves roaring," Luke 21:25.
"Men's hearts failing them for fear, and for looking after those things which are coming on the earth: for the powers of heaven shall be shaken," Luke 21:26.
"For we know that the whole creation groaneth and travaileth in pain together until now," Romans 8:22.
"And you will hear of wars and rumors of wars. See that you are not troubled; for all these things must come to pass, but the end is not yet. For nation will rise against nation, and kingdom against kingdom. And there will be famines, pestilences, and earthquakes in various places. All these are the beginning of sorrows," Matthew 24:6-8.
God is our refuge and help in times of trouble.
Current Pandemics, Natural Disaster, Etc. News Updates
DISCLAIMER: The articles below are from various new sources. The views expressed often DO NOT represent those of this ministry.
Sep 6, 2019
'People are shooting each other for food and water': Bahamas Hurricane Dorian death toll will be 'staggering'
Aug 29, 2019
Hurricane Dorian to strengthen, set to slam Florida as major Category 4 storm on Labor Day
Aug 24, 2019
The Amazon is burning at a rate not seen since we started keeping track. The smoke is reaching cities 2,000 miles away.
Aug 23, 2019
Global worry over Amazon fires escalates...
Aug 20, 2019
The New Normal - Earthquakes In Diverse Places As Kansas & Oklahoma Shake
Aug 11, 2019
Europe tsunami warning: Navy drills for mega-quake that could wipe out Mediterranean coast
Aug 9, 2019
Typhoon Lekima risk: Taiwan battered by 145mph winds as China prepares major evacuation
Aug 4, 2019
Asteroid tsunami: Scientist's dire warning to US coast over ocean impact
Aug 3, 2019
California earthquake: Scientists closer to predicting when the Big One will strike
July 30, 2019
GOP lawmaker says he's 'concerned' over reported UFO sightings by Navy pilots
July 29, 2019
More Than 80,000 Earthquakes Have Hit California Since July 4th, And The Aftershocks Are Headed "Toward The Garlock Fault"
July 28, 2019
Europe's heat wave is about to bake the Arctic
July 17, 2019
A Bacterial Invasion? People All Over The East Coast Are Suddenly Being Attacked By Flesh-Eating Disease In 2019
July 16, 2019
The Earth Strikes Back – 10 Signs That Nature Has Turned Against Humanity
July 15, 2019
The Number Of Global Earthquakes Is 3 Times Above Normal – 6.1, 6.6, 7.3 + Dozens More Hit The Ring Of Fire Over The Last 48 Hours
July 13, 2019
Indonesia rocked by 7.3 magnitude earthquake as Ring of Fire activity rises
July 13, 2019
A mag 6.1 Japan, is the 38th straight major quake to rock the Pacific Ring Of Fire with the sequence going way back to the beginning of May: Mag 4.9 hits SoCal
July 12, 2019
Up To 25 Inches Of Rain! – New Orleans Is About To Be Absolutely Devastated By A Storm Of Biblical Proportions
July 12, 2019
The Shaking Won't Stop: There Have Been More Than 10,000 Earthquakes In California And Nevada In The Last 7 Days
July 11, 2019
The Shaking Won't Stop: There Have Been More Than 10,000 Earthquakes In California And Nevada In The Last 7 Days
July 11, 2019
DEVELOPING: Gulf Coast Prepares for Tropical Storm Barry, Evacuations Ordered in Louisiana
July 10, 2019
Supervolcano fears: 'Big One' is coming
July 8, 2019
NASA Warns Violent Explosions On Sun's Surface Will Increase
July 6, 2019
WEST COAST ALERT: California could see even larger quake within next week!
July 6, 2019
The earth under Southern California is rumbling with about one aftershock every minute
July 6, 2019
New 7.1 earthquake hits California with shaking felt in LA, Las Vegas and northern Mexico
July 1, 2019
Look At This Map – It Shows Devastating Crop Losses Are Literally Happening All Over The Globe
July 1, 2019
Photos: Mexican city struck by 'freakish' hailstorm - CNN.com
May 23, 2019
Floods & Drought Devastate Crops Around The Planet - Global Food Crisis Coming?
Mar 25, 2019
EBOLA CRISIS: Outbreaks hit 1,000 in Democratic Republic of Congo - country's worst yet
Mar 22, 2019
'There Are Bodies Floating in the Water': Heidi Baker Pleads for Christians to Help Mozambique After Epic Cyclone Kills 1,000+
Mar 22, 2019
Government Warns Of Historic, Widespread Flooding "Through May" – Food Prices To Skyrocket As 1000s Of Farms Are Destroyed
Mar 21, 2019
The Most Dangerous Volcano in North America Just Erupted and Shot Ash Nearly a Mile Into the Sky
Mar 17,2019
Black death OUTBREAK: Deadly plague hits Africa - several dead
Mar 11, 2019
World must prepare for inevitable next flu pandemic, WHO says
Mar 3, 2019
California's Coming 'Big One' Might Not be an Earthquake
Mar 2, 2019
Earth's Magnetic North Pole Has Officially Moved
Feb 7, 2019
Next five years to be 'hottest EVER' with soaring temperatures bringing droughts, floods and hurricanes, experts warn
Feb 6, 2019
Earth's magnetic north pole is hurtling toward Russia
Jan 30, 2019
Forget Global Warming, Real Concern is Geomagnetic Shifting
Jan 29, 2019
Climate Collapse: Wind Chill Temperatures Will Hit -60 In The Midwest This Week As Global Weather Patterns Shift
Jan 21, 2019
Super blood Moon' eclipse stuns in remarkable pictures
Jan 16, 2019
Mystic Rabbi: Blood Moon Over DC Is Prophetic Message to America
Jan 16, 2019
Magnetic Pole Shift Could Turn Our World Upside Down
Jan 7, 2019
2019 blood moon hitting on same day as 2018
Significant because: 'Bible says that everything is to be established by 2 or 3 witnesses'
Jan 5, 2019
Earthquake WARNING: Seismic unrest forecasted FOR WEEKS
EARTHQUAKES could continuously rock the planet in the coming week as one tremor predictor believes that we are in for a prolonged period of seismic unrest.
Jan 1, 2019
Rare 'super blood Moon' eclipse to put on stunning display in January: What to know
Dec 13, 2018
How likely is an earthquake in the Midwest, South? The Big One could be coming
Dec 6, 2018
Ebola outbreak latest: Death toll hits 268 as Congo ravaged by killer disease
Dec 2, 2018
Alaska reels from more than 500 small quakes since Friday's 7.0 earthquake
Nov 30, 2018
Unstable Planet: Anchorage, Alaska Is Devastated By A Giant 7.0 Earthquake – Is The West Coast Next?