PROPHETIC ANNOUNCEMENT
Jan 8, 2017
Iran's ex-President Rafsanjani dies at 82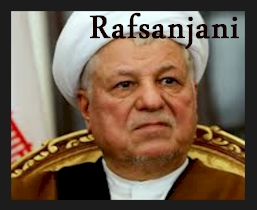 Rafsanjani's Staying Power & the Beginning of the End
4th President of the Islamic Republic of Iran
Who's who in Iran, Dec 20, 2009
Rafsanjani chose supreme leader in 1989 (with subtitles)
Will the favor be returned?
In July 2003, Forbes magazine listed Rafsanjani, the fourth president of Iran, in their list of richest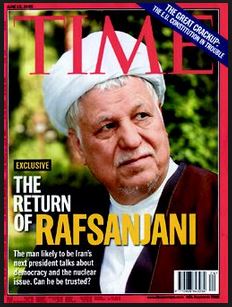 people in the world and has written that as the real power behind the Iranian government, he "has more or less run the Islamic Republic for the past 24 years."
For all intents and purposes, Rafsanjani should have disappeared from Iranian politics, but his wealth and staying power remained until his death in January, 2017. Bible prophecy would not allow him to fade away... for, according to Daniel 11, Rafsanjani would play a key role in the development of Iran's bellicose attitude and reign of terrorism because he would stir up Islam against the West with the birth of Iran's nuclear program.
Persia, whose name was changed to "Iran" in 1935, was ruled by empires and dynasties. However, political revolution began to mount in this region so that by April 1, 1979, the Islamic Republic was established in Iran. A Constitution of the Islamic Republic was approved by national referendum in December 1979. Iran now had elected leadership, a clear transition from the past. This ushered in the conditions for the end-time predictions of Daniel 11 to become reality. As mentioned, a key religious leader in the development of the Islamic Republic became the fourth and one of the most influential leaders in Iran —the wealthy Hojatolislam Ali Alvar Hashemi Rafsanjani.
Prophecy warns, "In the latter days...three more kings will appear in Persia [Iran], and then a fourth [Rafsanjani], who will be far richer than all the others. When he has gained power by his wealth, he will stir up everyone against the kingdom of... [Hebrew: "Javan"--Western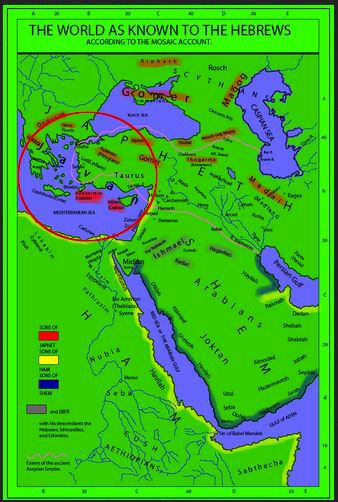 powers]," Daniel 10:14; 11:2. Click on Hebrew Map to understand the meaning of Javan.
We have written about Rafsanjani's rise to prominence for over 20 years. The prophecies tell us Rafsanjani would "stir up everyone" (Muslims) in the Middle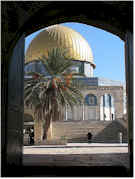 East against "Javan"--the West. How? Rafsanjani would initiate Iran's nuclear bomb program. Iran's terrorism and provocative behavior will lead to World War III, initiating the beginning of the end crisis according to Daniel's prophecies (Daniel 8:1-7;11:2-3). In addition to war, we will also see the destruction of the Dome of the Rock when the Temple Mount falls in ruins, with a massive shaking in Jerusalem. Muslims will blame Jews for tunneling under the Temple Mount, causing support structures to be weakened. Global turmoil will spiral out of control, while the counting days of The Kingdom Calendar will begin their counting.
A Sample of Rafsanjani's Public Statements that Stirred up Islam Against Israel & the West
"For 30 years you have been calling for talks with us and we refused. Now, you lay tough conditions to make us talk with you? Have you forgotten the time when the US hostages were in Iran and your envoys came (here) for talks to secure their (the hostages') release?" Rafsanjani, December 9, 2008
"The United States is making a concerted effort to hurt Iran and is therefore the primary enemy of the Islamic Republic," Rafsanjani, December 2, 2008
"If one day, the Islamic world is also equipped with weapons like those that Israel possesses now, then the imperialists' strategy will reach a standstill because the use of even one nuclear bomb inside Israel will destroy everything. However, it will only harm the Islamic world. It is not irrational to contemplate such an eventuality," Rafsanjani, December 14, 2001
Current Rafsanjani News Updates
DISCLAIMER: The articles below are from various new sources. The views expressed often DO NOT represent those of this ministry.
Feb 3, 2017
Jan 23, 2017

Avi Lipkin 2017: Part 5 - New Trends in Terrorism
Jan 19, 2017
The Legacy Of Iran's Powerful Cleric Akbar Hashemi Rafsanjani
Jan 19, 2017
A victim of state-sponsored terrorism has a different take on the death of the Iranian leader.
Jan 16, 2017
Rafsanjani was nothing more than a brutal criminal
How could anyone in their right mind claim that Rafsanjani was a "moderate" or a "man of peace" when his records of crimes against humanity are too long to list?
Jan 10, 2017
Rafsanjani death a blow to Iran reformers as Trump presidency looms in U.S.
Jan 10, 2017

What Rafsanjani's Death Means for Iran
Jan 10, 2017
As Protests Flare, Iran Bids Farewell to Rafsanjani
Jan 9, 2017
Rafsanjani, Iran leader who backed nuke program, tied to terrorists, West overtures, dead at 82
Jan 5, 2017
Rafsanjani pillories Ahmadinejad administration over ignoring popular capacities
Dec 31, 2016
Why rift between Iran's moderates, hard-liners is really about republicanism
Nov 12, 2016
Rafsanjani urges Sunnis, Shias to focus on commonalities
Nov 12, 2016
Rafsanjani reassures investors that Iran is not adventurous
Nov 9, 2016
Rafsanjani says extremism leads to deviation
Oct 31, 2016
Europe Betrays Human Rights Again
Oct 26, 2016
Rafsanjani hero of peace of Muslim World - Bosnian president
Sep 15, 2016
Rafsanjani stirs up a hornet's nest in Iran
Sep 10 , 2016
Iran Mass Execution Allegations: Khamenei, Rafsanjani Accused
Sep 1, 2016
Hashemi Rafsanjani's innuendo about Trump: Your power and wealth comes from plundering the immigrants
Aug 21, 2016